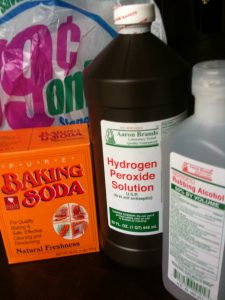 I hadn't gone to a dollar store in a while, but on my search for bargains, I decided to check out a few.  Reviews from frugal sites are mixed:  about half of the frugal bloggers like the savings, but another half question the quality of items.  I wanted to see for myself if there are worthwhile items for preppers.
I went to a 99 Cents Only store, a Dollar Tree, and a Dollar General.  I really liked the 99 Cents Only store that I visited, which included produce and a huge variety of items.  The Dollar Tree also had a decent selection.  I was not crazy about the Dollar General, as they had many items that were more than $1, and were actually more expensive than what I normally find at a grocery store.  Your area stores may vary, so I would recommend visiting and comparing before buying.
I bought these commonly stocked prepping items at the 99 Cents Only store:
Baking soda (2 for $.99)
Rubbing alcohol
Hydrogen peroxide (large)
Bottled water – 1 gallon
Bleach
Toothbrushes
Hand sanitizer
Matches
Disposable gloves
They had a large variety of named brand name canned goods.  However I did not purchase them there as I think I can find cheaper prices for certain items like tuna and tomato sauce when they go on sale at the grocery store.   I also did not pick up items like toothpaste unless they are made in the U.S., as a personal preference.   I bought only consumables.  I did not buy any tools, such as can openers or knives, as I would prefer these items to be long lasting and dependable.  I've had some success finding good quality items at Goodwill, but that is for another post.
In conclusion, there are good deals to be found at dollar stores for commonly stocked consumable items.   If you make a note of prices as you shop, you will get a good feel for which items are worthwhile.
If you haven't submitted your entry to win 6 #10 cans of Mountain House Chicken and Rice, you still have a few days. Just submit your best preparedness tip for apartment dwellers by emailing apartmentprepper(at)yahoo.com, with "Contest" on the subject line.
Please visit our contest sponsor, ReadyMade Resources, a trusted source for your preparedness supplies: