This post is by Bernie Carr, apartmentprepper.com
We got an opportunity to try out the new ALTAI MF Tactical Boot.
What are ALTAI MF Tactical Boots?
They are lightweight boots that are built to be sturdy and comfortable at the same time.  They are water resistant and have non-slip soles.
Here is the box they came in.
The upper portion of the boot is made with "Superfabric" which is a breathable material that is sturdy and durable at the same time.
Here is a closer look: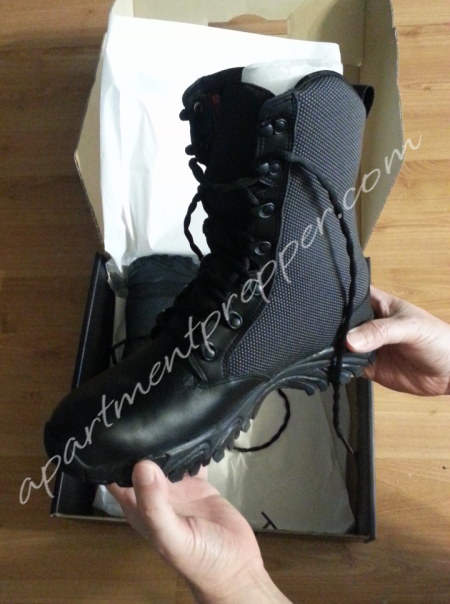 The out soles are made from Vibram, a long lasting material that prevents slipping in rough terrains.
Here is Mr Apt Prepper's review:
When I first saw the boots, they appeared really different from any hiking boots I've owned.  I am used to the leather uppers and I felt unused to the fabric.  But they look well constructed and I was interested in testing them out.
Comfort
I hiked around in these boots for several hours and found them to be comfortable and light-weight.   My feet felt a bit warm after a while but the material was breathable so they did not feel overheated.
Water Resistant
I walked around while it was raining, through puddles and mud, and water did not penetrate the boots.  I hosed it down to get rid of the mud, and the boots continued to keep my feet dry inside.
The soles have a good tread and you can tell with each step that the boots have traction with surfaces, whether wet or dry, even or uneven.
Flexibility
These boots are quite flexible and do not pinch or hurt while giving some good foot support.  I did not get any blisters or chaffing, even when "breaking them in."
If I had to be picky about something, it would be that the boots only comes in one style and one color.  They have a look of police or military type footwear, that I normally would only wear for hiking or outdoor work.  However, I did find out that the company will soon be adding more styles in a few months.
Overall, the boot itself is well-made and the price is reasonable as compared to other similar boots.  It's a great pair to have in case you ever need to walk out of the city, or for if you just need some sturdy, comfortable boots for everyday use.
ALTAI Tactical boots are available through the ALTAI Gear website or through Amazon
Notes about Sizing
For men:  The sizes run large, so if you normally wear a size 10, choose half a size smaller and buy the 9 1/2.  Even with thick wool socks, the smaller half size fit well.
For women, it is suggested that the size ordered should be a full size smaller than the stated boot size.  So if you normally wear a size 8, order the ALTAI Tactical boot in a size 7.
Now for the Giveaway!
ALTAI MF Tactical Boots giving away one pair of boots to a lucky winner.  To enter, please post a comment below regarding:
Do you feel there is a possibility you may have to walk out of the city in a disaster?  How are you preparing for this?
The winner* will be chosen at a random "Pick a Giveaway Winner" drawing on Friday,  April 25th at 8 pm Central. 
*Winner will be notified via email.  Winner must reply to email notification within 48 hours or another winner will be drawn.
 THIS GIVEAWAY IS CLOSED.
© Apartment Prepper 2014