Congratulations to Mel B who won the random drawing for the 3 Berkey Sport Bottle giveaway, sponsored by LPC Survival.
The winner has been notified via email.
I'll be working on the next giveaway and will announce the details soon.
Our thanks to The Berkey Guy for sponsoring the giveaway and a big thank you everyone for entering!
Get the real deal. Whether bugging out or sheltering in place, you can never have enough clean water for survival: For your water purifier needs, please visit: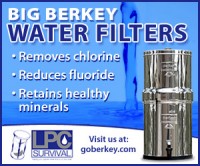 For beginning preppers
Visit SafeCastle for your preparedness supplies:

Good ideas for building a food storage plan can be found here: