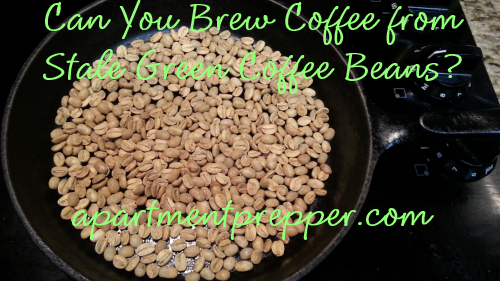 This post is by Bernie Carr, apartmentprepper.com
A few years ago, when I first started my emergency stash, I bought green coffee beans as I was learning to brew coffee off grid.  The beans were purchased in 2010, and were left in the original packaging for the last four years.  I should have repackaged them in mylar bags, but sometimes even a preparedness blogger slips up.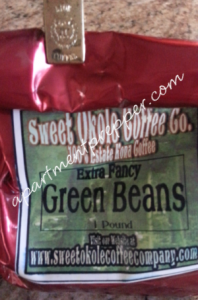 I found them after we moved to a smaller space and was too cheap to throw them away.  This past weekend, I ran out of my favorite Dunkin Donuts coffee but did not want to break into my emergency supply of Kona coffee.  I thought, "Why not see if these old green coffee beans are still any good?"
What the stale green coffee beans looked like:
They are no longer green but almost look like peanuts:
Roasting stale green coffee beans:
I used my cast iron skillet over a propane stove outside.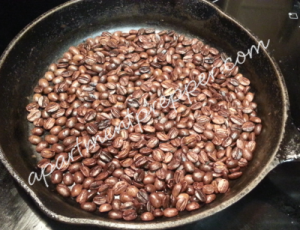 After a few minutes, they started turning brown.  Then, they started smoking, and smelling slightly burnt.  Finally, they started making the popping sound, like popcorn, but not as frequent.
I was a little concerned the beans did not smell as strong as expected.  There was a slight coffee smell, but also accompanied by a toasty smell.  But I was determined to see them through.
I let them toast some more, and turned off the heat.  They do look brown with a slightly oily sheen as they're suppose to look.  Then I placed them in a colander, shook them around a bit over the sink to let the chaff fly off.
After they cooled, I used the Nutribullet nut attachment to grind them.  They now smelled like real coffee.
I brewed the coffee using them the next day.   I would say the coffee aroma was not as strong as when they were fresh, but these are four year old green coffee beans.  I was actually surprised they were any good at all.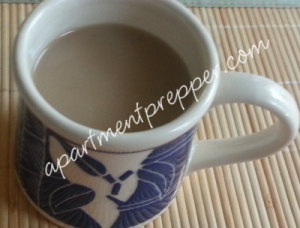 When I tasted the coffee, I found it tasted good; probably not as robust as they would have been had they been properly stored, but I can't complain.  This experiment was to see if  it's okay to brew coffee from stale, green coffee beans.  In answer to the question, I would say yes.  But if you want to maintain optimum quality and taste, then store them properly and they will last even longer.
© Apartment Prepper 2014
Please click here to vote for me at Top Prepper Websites!