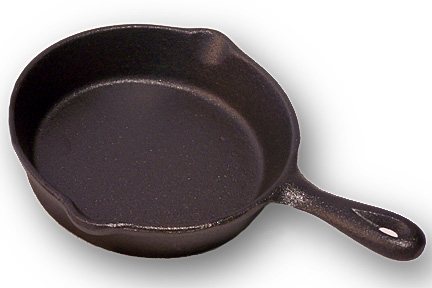 My favorite survival cookware are cast iron pans.  For anyone who is unfamiliar with cast iron, they are the black heavy iron pans that have been around for hundreds of years.

My mother-in-law actually introduced me to cast iron pans.  Whenever I helped her cook anything in her kitchen, I marveled at how her cast iron pans cooked everything so well.
Why I like them so much:
They distribute heat evenly

When well seasoned, they work like a non-stick pan, or require very little oil.

The same plan will cook well with any type of stove:  electric, gas, you can even stick it in the oven and make bread in it.  In an emergency, it will work well over an open flame. 

The pan adds iron to your food, which helps avoid an iron deficiency.


Because they so sturdy, they will last a lifetime, and you won't need to spend money for replacement pans.
In those days, I used Teflon pans, but once they get a scratch, they peel and shred after a while.  After I saw how much better the cast iron pans heated through, I tossed out all my Teflon pans and asked my mother-in-law to help me buy some.
She did not take me to a cookware store; instead she took me to Goodwill.  She said she found the best cast iron pans there.  People would toss them out thinking they were inferior to Calphalon or other name brand cookware.  Being of a frugal nature, she encouraged me to find second-hand deals instead of full priced items.
If you are in the market for one, try getting it used at stores like Goodwill, or shop online at Craigslist or Freecycle first.  If you are just starting out, I would recommend choosing a slightly rusted cast iron pan, to make it easier on yourself. 
The same process to salvage it, is the same process to season a brand new pan.
If you have a new pan, just wash and rinse, no scraping needed.  If you are working with a used, slightly rusted pan, wash with a strong dishwashing liquid and scrape out the rust with a steel wool.

Dry completely with a dish towel.

Coat the pan with cooking oil all over.  I have used vegetable oil, olive oil or peanut oil

Turn the oven on low heat, around 250 degrees and leave the pan in the oven for 4 hours.  Do not leave unattended.  It may get a bit smoky if the heat is too high.

Turn of the heat and leave the pan in while it cools.

Repeat the process over a few months until the pan turns black.  You now have a well-seasoned pan.
Cast iron pans are available pre-seasoned.  You don't have to go through the process if you don't feel like it.  Just remember the pan should not be left sitting in a sink-ful of water.  It should be rinsed and dried after use and coated with a thin layer of oil.  I've recently started coating my pans with coconut oil and it adds a nice flavor to the food.
They are still fairly inexpensive, around $10 for a non-seasoned pan, and about $20 for a pre-seasoned one.  Whether you buy it used or start out with a pre-seasoned skillet, you'll be pleased with they way they cook, and it will last for generations.
Reminder:  Don't forget to enter our latest giveaway for  Berkey Sport Bottle and Watersafe City Water Test Kit!

For details click here!