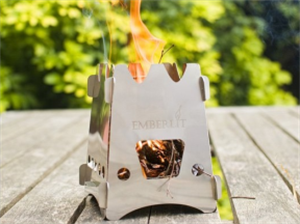 LPC Survival, aka The Berkey Guy is sponsoring our new giveaway:  Enter to win an Emberlit Stainless Steel Stove by submitting your entry below.  Here's a description from the website:
The Emberlit Stove weighs less than 11.3 oz (316 g) and is constructed of rugged stainless steel. Compare that to a full canister of fuel and burner! The stainless steel EmberLit is impervious to corrosion and remarkably strong. The EmberLit will hold the weight of any pot or pan that will sit securely without wobble. Like the rest of the EmberLit line, this stove comes with a lifetime guarantee because you are never going to wear it out. 
This'll make a great bug-out bag or backpacking stove.
You can enter between May 6 until Saturday, May 11, 2013.  Lots of ways to enter!