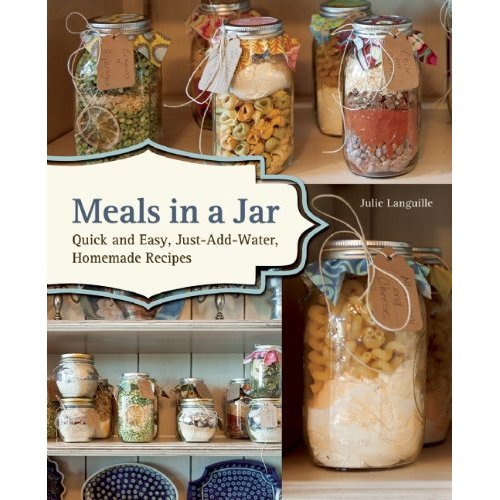 This week I read through Meals in a Jar Quick and Easy, Just-Add-Water, Homemade Recipes by Julie Languille.
The book covers everything you would need to have in order to prepare all the ingredients needed to have "just add water" meals in your pantry.  It also gives step by step instructions on how to assemble, and finally, cook the meals you have stored.
With my schedule, I am always interested in having ingredients on hand to make quick meals.  Pre-packaged homemade meals would be great to have in the event of an emergency.   Even if nothing happens, the meals would come in handy for backpacking, camping and for everyday meals.  Once you are up and running, you would save both time and money.  However, as with many projects, there is a certain amount of equipment and preparation time involved.
I reached out to the author, Julie Languille, to ask a few questions and for some advice.
1.  How did you get interested in creating meals for food storage?
There are a few contributing reasons: I am very interested in food, both my grandmothers used to dry and "put up" food, I have been through earthquakes and extremes of weather where meals in a jar are wonderful to have on hand, and I also am a working mom who needs an easy go-to meal on busy work nights.
2.  Do you use meals in a jar for everyday meals?  
I do. My daughter loves to make chili mac and macaroni and cheese, and my even my husband can make a batch of chicken noodle soup for me if I am under the weather.
3.  Being a busy working mom, how much time do you allocate to preparing these meals?
I make meals about quarterly and I like to keep about a month's worth on hand. I usually spend a day doing it, about quarterly. I do invite my girlfriends in to help which adds to the fun and makes everything go faster.
4.  Being an apartment dweller who does not have a lot of space for equipment, I have been hesitant about buying new equipment.  What are the minimum, most essential items we should consider buying?
The absolute minimum would be canning jars and oxygen absorbers. You could store dry soups and stews in jars with no other equipment. If you had a bit more space I'd get a vacuum sealer or a medium sized pressure canner you could use for storage and tuck in a closet when not in use.
5.  For those readers who are not ready to take the full plunge toward food storage, but want to take small steps, what would you recommend?
A good baby step is simply to stock up on canned meals, buying double what you normally would each time you go to the store. Also, in my next book, The Prepper's Food Storage Plan, 101 Easy Steps to Affordably Stock a Life-Saving Supply of Food, breaks up the daunting task of creating a food storage into 101 easily manageable steps. I have categorized each step into where to buy the item and scored it from $ to $$$$ so you can maximize that trip to Costco and also work around your budget. I also organized it starting with the most important things first, so readers can maximize their preparedness right from the start.
Our thanks to Julie Languille for taking the time to answer our questions.
Win a Copy of Meals in a Jar
Ullysses Press, the publisher of Meals in a Jar Quick and Easy, Just-Add-Water, Homemade Recipes has reserved one copy to give away to an Apartment Prepper reader.  Just add your comment below, describing your food storage adventures.
The winner* will be chosen at random on Saturday, June 15th at 8 pm Central.
*Winner will be notified via email.  Winner must reply to email notification within 48 hours or another winner will be drawn.
THIS GIVEAWAY IS NOW CLOSED.
Get the real deal. Whether bugging out or sheltering in place, you can never have enough clean water for survival:
For your water purifier needs, please visit
: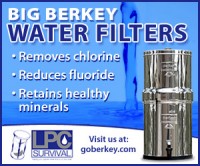 For beginning preppers