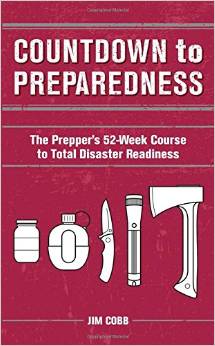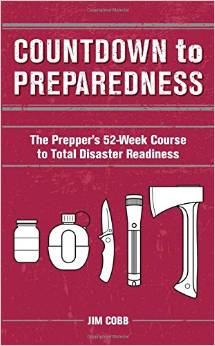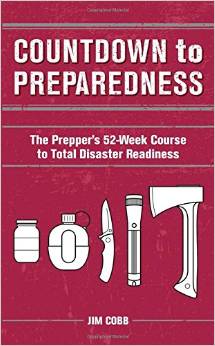 Today we are featuring Jim Cobb's latest book, Countdown to Preparedness:  The Prepper's 52-Week Course to Total Disaster Readiness.
I had the opportunity to read Countdown to Preparedness and found lots of helpful advice.  It breaks down the idea of preparing for both short term disasters into manageable steps that can be done in 52 weeks.  Of course you can take shortcuts if you are able to or stretch out the time period according to your finances and time constraints.  I appreciate the budget minded approach, as many families are daunted by large expenses.
Jim Cobb's books have been featured on Apartment Prepper previously and we are pleased to have this encore interview.
1.  Given the fears about the ebola virus, what is your current state of alertness (on a scale of 1 to 5 with 5 being the highest level) regarding this issue and why?
As it stands right now, I'd say I'm at a 2.5 or so.  Ebola is on my radar,
but I'm not really losing any sleep over the threat just yet.

2.  If the threat of ebola were to escalate, what is the best approach for a city dweller?
Isolation would be key.  If someone in an urban area were able to quickly
and safely get into a less populated area, that would be ideal.  If that's
not a viable option, be prepared to hunker down and wait it out, which
could take weeks or even months.

3.  Residents and tourists in Hawaii breathed a sigh of relief as the two hurricanes threatening the islands passed without incident.  Many readers are confused about being prepared while flying to a destination, either for business or personal.   What is the best way to be prepared while on vacation or traveling for business?
When possible, I much prefer to drive to my destination, given that I can
obviously carry more gear with me.  Flying is problematic when it comes to
survival equipment.

It might be seen as being "overly prepared" but what I've been doing is
shipping a small box to my hotel ahead of my arrival.  Said box contains a
small amount of survival gear — food, water filter, first aid kit, knife,
etc.  Not a ton of stuff, but enough to give me a leg up if I were to need
to evacuate without having access to my regular kits.
Now for the Giveaway:
Please answer the following questions for a chance to win a copy of Countdown to Preparedness:  The Prepper's 52-Week Course to Total Disaster Readiness.
Are you prepared for emergencies when traveling?  What steps do you take to be prepared?

The winner* will be chosen at a random "Pick a Giveaway Winner" drawing on Friday,  August 22 at 8 pm Central.  *Winner will be notified via email.  Winner must reply to email notification within 48 hours or another winner will be drawn.
This giveaway is now closed.