This post is by Bernie Carr, apartmentprepper.com
Survival Doctor James Hubbard, MD has written a new book, Living Ready Pocket Manual – First Aid: Fundamentals for Survival.
This book will give you knowledge and skills to potentially save a life during an emergency or disaster.   Dr. Hubbard gives easy to follow step by step directions on what to do in such situations as:
choking
severe wounds
bites
burns
dehydration
hyperthermia and hypothermia
poisoning
broken bones and joints
In high stress situations, you don't need a lot of complex explanations and jargon that will only confuse you.  This books gives an average person exactly what's needed to take action and follow through.
There is also a section on what to include in a first aid kit some of which I found lacking in my own kit.  Dr. Hubbard also reminds us to keep additional water for first aid purposes such as cleaning wounds.  There is also a section detailing what types of antibiotics target certain illnesses.
You never know when you'll find yourself as a first responder in a disaster.  The book is well-organized which makes it easy for someone to use in an emergency.  It is small enough to keep in a bug out bag, or a hiking backpack.  I think this book would also make a great gift for non-prepper recipients.  I am sure by now you've concluded I highly recommend Living Ready Pocket Manual.
For additional reviews of Living Ready Pocket Manual, click here.
Now for the giveaway:
Just add your comment below:
 Describe a first aid emergency that you've experienced.

The winner* will be chosen at a random "Pick a Giveaway Winner" drawing on Saturday, January 18th at 8 pm Central.
*Winner will be notified via email.  Winner must reply to email notification within 48 hours or another winner will be drawn.
THIS GIVEAWAY HAS ENDED.
© Apartment Prepper 2014
For easy ways to become more prepared, read my book: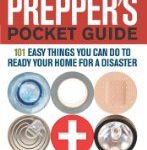 For low-cost ways to prep: