This post is by Bernie Carr, apartmentprepper.com
Even though we can't truly be self sufficient we can reduce our dependence on the system by making certain foods ourselves.  I always enjoyed granola cereal and always bought Quakers brand.  Granola tends to be higher priced than other cereal and wanted to find out if I can make it myself.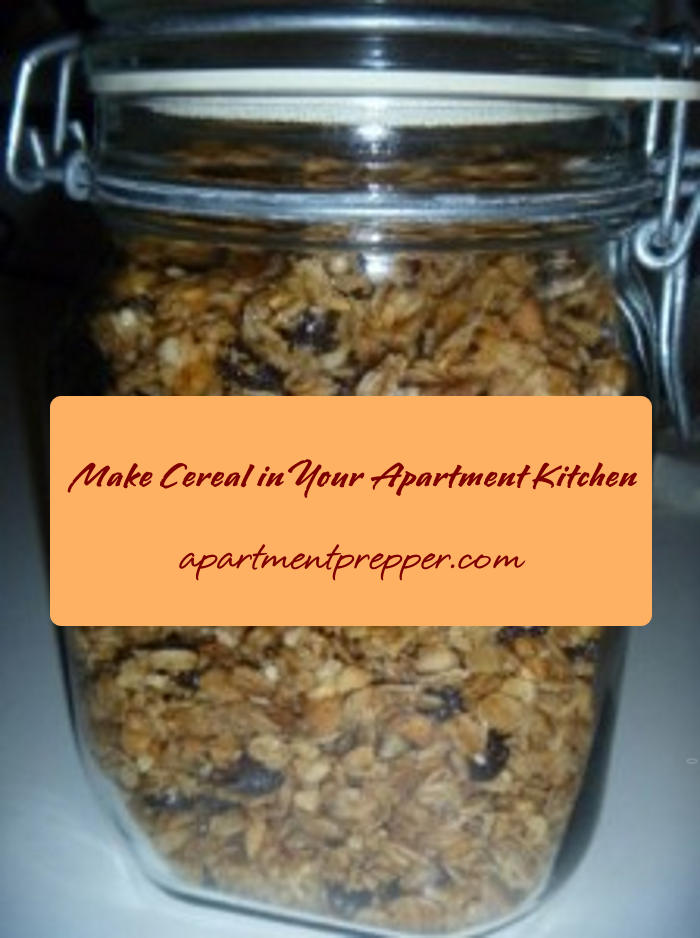 Here is the recipe.
Ingredients:
2 cups old fashioned oats
1/2 cup dried cranberries (raisins or other dried fruit would work too)
1 cup nuts ( I used macadamia.)
1 tsp cinnamon
1/4 tsp salt
1/2 cube butter
1/4 c lightly packed brown sugar
1/4 c honey
1 tsp vanilla
1.  Preheat oven to 350 degrees.  Line baking sheet with foil.  Grease the surface with oil or cooking spray.
2.  Mix oats, cranberries, nuts, cinnamon and salt in a bowl.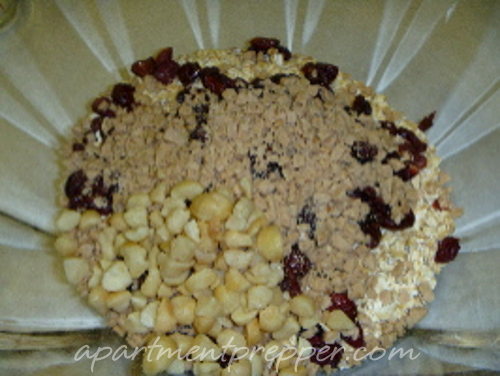 3.  Combine butter, sugar and honey in a medium saucepan, over medium heat.  Stir until butter melts and begins to boil.  Add vanilla and stir.  Remove from heat and pour over oats.  Make sure oats get coated well.
4.  Transfer mixture to pan, spreading flat in an even layer.
5.  Place in preheated oven and check after 15 minutes.  Stir in any edges that are getting too brown.  Return to oven and bake another 10-15 until top is golden.
6.  Remove from heat and let cool.  Break into chunks.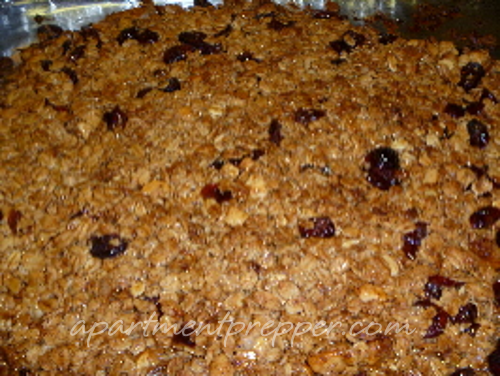 The first time I tried this recipe the cereal came out a bit darker than I planned, as the oven tends to overheat.  It still tasted good.  I made a second batch and removed it from heat sooner and the color was just right.  You will have to check a couple of times to gauge how your oven heats up the oats.  Now I have lots of good granola cereal.   Buying the dry ingredients from the bulk bins at the grocery store is the most inexpensive way to go.  The best part is I know exactly what ingredients went into it.
© Apartment Prepper 2012
For more fast and easy tips to become more prepared, read my book:

Get the real deal. Whether bugging out or sheltering in place, you can never have enough clean water for survival: For your water purifier needs, please visit: