Welcome to another Monday Musings!  Just a quick update today, as I still need to go back to work later this evening.
We have a winner!  The winner of our Snare-Vival giveaway is Melissa P.  I have emailed Melissa directly-please send me you mailing info so the item can be sent to you.  Congratulations!
We got some great ideas for snares – thank you for all your enthusiastic entries.
We'll have another fun giveaway planned for early next month, so be watching for it!
Still working on the blog email subscription  I'm still trying to fix it – thanks for letting me know it's broken.  I apologize for any inconvenience and I hope to improve it very soon.
New Zombie Book from Archer Garrett.    His latest book, The Blighted (zombie fiction), is now available:  http://www.amazon.com/dp/B00B0MIZB8
Free chapters are available here:  http://acotwf.blogspot.com/p/the-blighted_16.html
Many of Apartment Prepper readers enjoy zombie fiction so I thought I would pass this along.
Cold Weather will push up food prices.  Have you noticed the record cold weather all across the country?  I knew this was coming:  Cold Weather will Push Up Vegetable Prices  
And of course, it's never just one thing that goes up – vegetables, fruit, grains, etc.  And we already knew meat was going up from last year's drought.  Just another reason to keep right on prepping!  Now is the time to start planning your vegetable garden.
Speaking of vegetable gardens…  I've been interested in aquaponics for a long time but was concerned about the space issue and feasibility for apartment dwellers.  Check out Aquaponics for Apartments  – it sounds easy enough.  Also see How to build a desktop aquaponics system for indoor gardening.
That's all for now- take care and have a great week everyone!
Get the real deal. Whether bugging out or sheltering in place, you can never have enough clean water for survival: For your water purifier needs, please visit: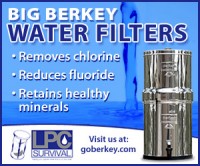 For beginning preppers