Welcome to another Monday Musings, my sporadic post on blog happenings and interesting links I came across.  I don't know what happened by somehow my update posting was delayed and only a partial post went up on the blog.  I apologize for any inconvenience.
This is going to be a quick one!
My New Ebook is now Available on Barnes and Noble.   We had a few Nook owners express interest in my new e-book  How to Prepare for Most Emergencies on a $50 a Month Budget.   I had a few technical difficulties getting the book posted and had to contact Barnes and Noble for a fix.  They responded and it is now available.
You can enter to win a free copy of the e-book by posting a Comment over at Backdoor Survival's Sunday Survival Buzz, Volume 42.   Our thanks to Gaye Levy for hosting the giveaway.
NASA's Black Marble  Check out this satellite image of the US recently released by NASA.  You can easily identify the heavily populated areas.  Find your general location and you will see how densely populated it is, from the degree of brightness.  We live in one ourselves.  Stop and consider how people in these metropolitan areas would react in a major disaster.  As we have seen from Hurricane Sandy aftermath, the result is quite unpleasant and it behooves everyone to be prepared.
December 21, 2012 is fast approaching.   It sounds like some people are worried enough to stock up.   See  Mayan apocalypse: panic spreads as December 21 nears   It may be a good day to stay away from crowds.  On the other hand, maybe there is nothing to worry about:   Read The world may not end soon predicts newly found Mayan calendar
One the plus side.  check out a great publisher's sale of Lisa Bedford's book Survival Mom: How to Prepare Your Family for Everyday Disasters and Worst-Case Scenarios   for e-book readers?  It is on sale for just $3.99.  I posted a review here.  Here is a link for  Amazon, Barnes & Noble, and Kobo:  http://bit.ly/11Fr7Bp
As it always happens this time of year, I am swamped with work and keeping some late hours at the day job so I may not be able to respond to all comments as normal.  I do read all comments, emails and questions, and will continue to post new articles.
Have a great week and be safe everyone!
Check out the Legacy Premium line of storage foods carried by one of our sponsors, PrepareWise.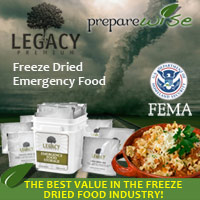 Get the real deal. Whether bugging out or sheltering in place, you can never have enough clean water for survival: For your water purifier needs, please visit: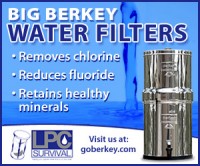 Don't let those expiration dates get past you.  An inexpensive but helpful tool to keep track of supplies (Iphone or Ipad users):
 For beginning preppers