Welcome to another Monday Musings, our sporadic posting about blog updates and interesting links I found to share with you.
First, our blog update.
We have a winner.  Last week we held our February Giveaway of The Weekend Homesteader:  wow- did we have a great response!  We had a great number of entries, showing much excitement about self-sufficiency projects.  The winner of our random drawing is Nora, who said, " Our goal toward self-sufficiency this year is raising 8 chickens for eggs, growing as much veggies as we can, planting fruit/nut trees, planting berries, and slowly learning how to preserve as much food as possible. This book would greatly help us."  A big thank you to everyone who entered and shared your upcoming projects.   Please share and let us know how your project turned out – successful or otherwise – we can all learn together!
We'll be holding another fun giveaway the first week of March!
Reaching more preppers.  Apartment Prepper had our busiest traffic day yet on Saturday, 2/9.  Thanks to our Facebook friends, Prepper Website, Backdoor Survival, SHTFPlan, Survival Top 50 that were the top referrers.  Sometimes I worry I am not reaching enough apartment dwellers, but this is very encouraging!  Thank you!
Now for the links…
From big city life to homestead.  While living in a homestead remains a dream for most of us, I always like to hear about what others have achieved.  Here's an article from Ready Nutrition about making the big leap from living in a big city to a rural life.
Staying warm.  While many homes in the northeast are digging out of the recent blizzard, here's an article on the basics of staying warm.
Insulation: first the body, then the home
Staying healthy.  Interesting article about a little known antioxidant.
Major Producer Reveals the Benefits of Astaxanthin—Nature's Most Powerful Antioxidant
Staying aware.  Good article over at Prepper Next Door.  #3, #4 and #9 are the ones I need to improve upon right away.
Take care and have a great week everyone!
Get the real deal. Whether bugging out or sheltering in place, you can never have enough clean water for survival: For your water purifier needs, please visit: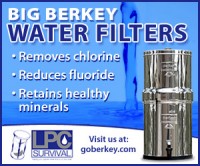 For beginning preppers