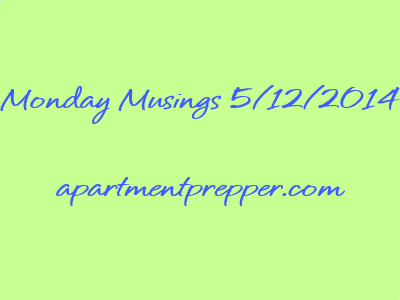 Welcome to another Monday Musings, where we share interesting links as well as updates on the blog and preps.
First the blog updates…
This past week we were able to set up the Sun Oven, but the following days were cloudy followed by rain so I haven't had a chance to do part two – the cooking part!
Podcast Interview coming up.  I'm looking forward to chatting with John Wesley Smith of Destiny Survival Radio – I'll let you know when the podcast airs.
Moisturizing Salve update  I'm just so pleased about how my moisturizing salve turned out:  With the last batch, I gave away some eczema salve and miracle to family members, some I mailed out of state.  After a couple of weeks of use, the results are in:  they definitely work!   The salve helped eczema, psoriasis and skin allergy sufferers.  I'm using the plain salve as a makeup remover, and substitute for petroleum jelly.
I'm convinced essential oils really work, and that's why I joined Spark Naturals as an affiliate.  If you order from Spark Naturals, use coupon code APARTMENTPREPPER and get 10% discount off your purchase.
Sponsor News   A big thank you to Prep and Pantry Apps for renewing with us.  Prep and Pantry Apps provides an easy way to keep track of your food storage.
5 apps parents should delete from kid's phones
Doomsday types  Insightful article about worsening times and reasonable ways to cope
A Year after The Age of Limits: 5 Responses to the End Times
The struggle to stay private  Good article on making the stand against privacy intrusion
Sorry but I don't Give Out Personal Information
Speaking of privacy, have you taken these steps to protect your privacy?
Going Undercover: How to Protect Your Privacy Online
Some Simple Vigilance, Shred your Trash
Now is a good time to do this Even a small food pantry gets cluttered.   Here's an article that will help AND give you a great tip to store spaghetti too.
8 Tips to Spring Clean Your Pantry (stop groaning, it won't hurt much)
Take care and have a great week everyone!
Please click here to vote for me at Top Prepper Websites!
Sorry, But I Don't Give Out Personal Information
Sorry, But I Don't Give Out Personal Information