Welcome to this week's Monday Musings where we take a look at note worthy postings and updates.
In the Apartment Prepper household.  This week the " preserving eggsperiment" (sorry, couldn't resist) is still underway.  So far no changes noted in the eggs as far as smell or appearance.  In another week I will test for freshness and will keep checking weekly.  I may find another method to preserve eggs and test that as well.  This week I am looking at Introduction to Candle Making with Marie Kauffman to see if candle making is a feasible project for me, and I will be posting my review of the DVD soon.
For coffee lovers only  If the power goes out, I'll still want my cup o' joe so I've experimented with  roasting green coffee beans in a campfire popper, but here's another way to do it How to Roast Your Own Coffee in a Stovetop Popcorn Maker from Root Simple.
You'll never view a tampon the way same again.  I like finding new uses for things other than intended, so I found this post interesting:  Willow Haven Outdoor posts various survival uses for tampons in "Yes, that's a Tampon in my mouth : The Swiss Army Survival Tampon : 7 Survival Uses"
If you don't live in the ground floor   A rope ladder is good to have as an emergency means of escape.  See "How to Easily Create Your Own Rope Ladder"
How much do you reveal about yourself?  Most people don't realize how much data is being collected about them – it may be a lot more according to this Consumer Reports article:  Facebook & your privacy  Who sees the data you share on the biggest social network?
Have you started your garden yet? For those of you who have the room for a square foot garden, take a look at this infographic from Frugal Dad, one of my favorite personal finance blogs.
Frugal Dad's square foot gardening infographic

Source: http://FrugalDad.com
Check out Emergency Essentials for these preparedness items:

For more preparedness tips, read my book: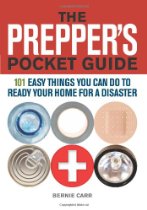 For your preparedness needs, please visit: