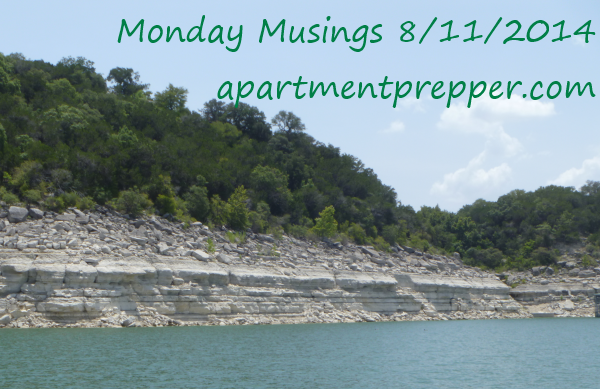 This post is by Bernie Carr, apartmentprepper.com
Welcome to another Monday Musings, where we share interesting links as well as updates on the blog and preps.
First the blog updates…
The Blog Makeover  The blog changes are still a work in progress, as I work on a few more pages to make it easier for reader to find articles.
Giveaways  We had the drawing for The Prepper's BluePrint and reader Sarah won the giveaway.
We will have another giveaway this week, so please check back and enter.
Now for the links…
Disease-Scare Burnout? 4 Action Tips to Help Prevent Almost Any Infection
Russian Hackers Amass Over a Billion Internet Passwords
3 Surprising Things that Spy on You that You Can't Stop
No Spending Challenge – Shop Out of the Pantry and Freezer Month
Two Is One and One Is None: How Redundancies Increase Your Antifragility
Have You Read The Label? Make Your Own (Healthier) Salad Dressing
Fermentation is the New Canning
How To Make An Altoids Candle Stove
Take care have a great week everyone!
© Apartment Prepper 2014
Please click here to vote for me at Top Prepper Websites!