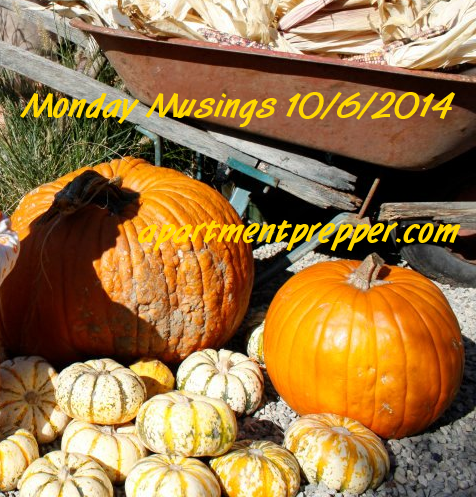 This post is by Bernie Carr, apartmentprepper.com
Welcome to another Monday Musings, where we share interesting links as well as updates on the blog and preps.
First, the blog updates…
Preparedness Books Blog Tour
I'm participating in Survivor Jane's Preparedness Books Blog Tour  There's always a new one being added.  Check it out!
Now for the links…
Find out: Fun quiz to find out What kind of prepper are you? DailyPrep quiz  Mine came out to be First Responder type
Get your questions heard:  Take this survey:  Preparedness Questions for a Better Online Community
Here's a great giveaway from Skilled Survival
9 Lessons Learned from Living without Running Water
6 Simple Auto Maintenance Jobs You Should Be Doing Yourself
Bugging Out With Limited Mobility
Talking to your Kids about Ebola
Four Ways to Increase your Survival Endurance
There's been so much worry going around lately, I thought I'd end with something more positive:
"Pray, hope, and don't worry. Worry is useless. God is merciful and will hear your prayer. Prayer is the best weapon we have; it is the key to God's heart."
-St. Pio of Pietrelcina (Padre Pio)
Take care and have a great week everyone!
© Apartment Prepper 2014
Vote for Me!
Please click here to vote for me at Top Prepper Websites!
Check out these deals!