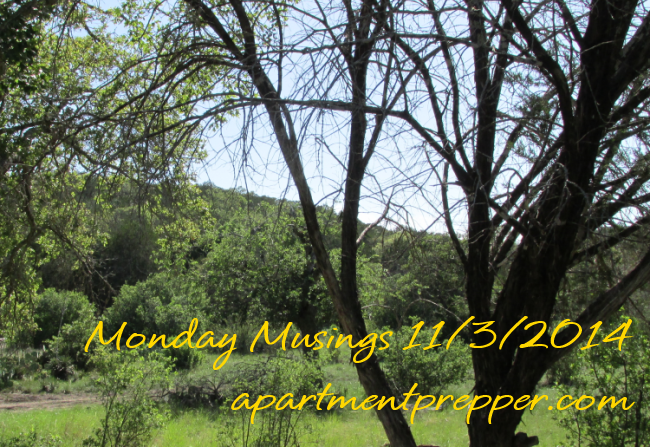 This post is by Bernie Carr, apartmentprepper.com
Welcome to another Monday Musings, where we share interesting links about all things preparedness, as well as updates on the blog.
First the blog updates…
I haven't written a Monday Musings post in a while, since we had giveaways the last two weeks.  Next week we will have another one on Nov. 10th, and I don't mind telling you we are planning a big one for Black Friday, November 28th.
Sponsor update:
A big "Thank You!"  to LPC Survival Home of the Berkey Guy for renewing with us.  They've been with Apartment Prepper since the early days.  Please visit our sponsors – they help keep the lights on around here!  Thank you!
Freedom Prepper Magazine – free trial!  One of my articles is featured in this month's Freedom Prepper Magazine's special ebola alert issue, available for I-Phone of Google Apps.  Apartment Prepper readers can try Freedom Prepper magazine for free for 30 days.  Note:  I do not have a financial relationship with Freedom Prepper, nor am I trying to influence you in any way.   This is just a freebie that is available so I am passing it along.  Here are the links if you are interested:
Now for the links…
13 REAL Survival Uses for Altoid Tins – You Can Easily Make One Today!
85 Ways to Eat More Fermented Foods
Pushing Past the Terrifying Dip in Motivation
33 Ways to Maximize a Small Living Space on a Budget
We Prep for Ebola Because of Irresponsible People Like Kacie Hickox
Nutritious Acorns Don't Have To Just Be Snacks For Squirrels
5 Tips for Correctly Using Hand Sanitizer (From a Nurse Who Knows)
Hackers Probing Financial System's Defenses Show Why Everyone Should Worry
Take care and have a great week everyone!
© Apartment Prepper 2014