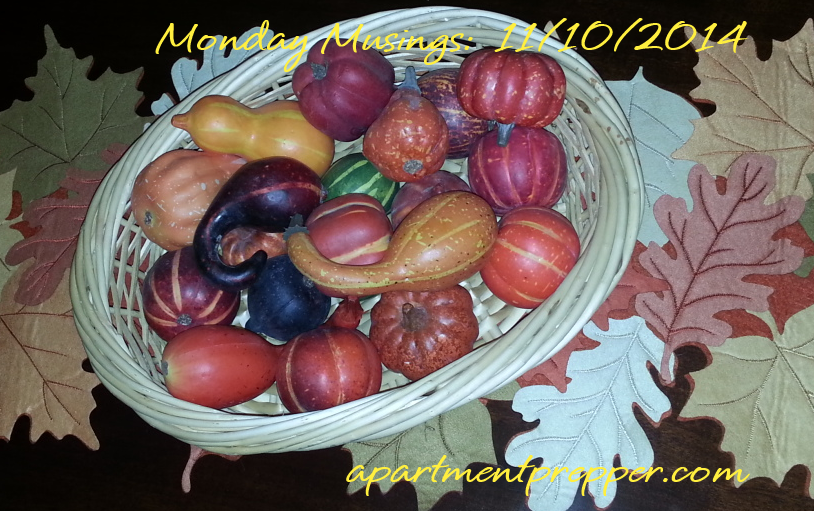 This post is by Bernie Carr, apartmentprepper.com
Welcome to another Monday Musings, where we share interesting links about all things preparedness, as well as updates on the blog.
First the blog updates…
We just had our biggest week here at Apartment Prepper in terms of visitors- my post Substitutes for Toilet Paper was the most shared ever, had over 11,000 views in one day, plus lots of comments.  Thank you to everyone who shared the post – I appreciate it!
This past week I have been busy testing gear for product reviews and catching up on reading.  Gear and book reviews are scheduled two to three months in advance in the blog calendar, to give me time to read, test and post about it.
I have not added any items to the stockpile, in fact, I have been using some of the supplies to supplement the weekly menu.  I'd like to replace the food storage soon, but money has been very tight at the Apartment Prepper household lately.   So we make do or do without.  You can bet I am collecting money saving ideas and will be posting about them.  In the meantime, I have a couple of links to frugal posts below.  I can certainly relate!
Practical Tactical posted a review of Jake and Miller's Big Adventure.  Check it out here!
We have a great giveaway going on – don't forget to enter!
Now for the links…
Mark Goodwin over at PrepperRecon released his new book, The Days of Noah Book One:  The Conspiracy  I had read his previous books, The Economic Collapse Chronicles which was a good series.  I am adding The Days of Noah to my book list!
Gaye Levy and George Ure's book, 11 Steps to Living a Strategic Life: A Guide to Survival During Uncertain Times is on sale of just $0.99.  I reviewed this book – it has excellent and timeless advice for everyone.
How to Make Mint Extract + 6 homemade extract recipes
20 Brilliant ways to use Paper Rolls (Paper Towel & TP Rolls)
The Budget is Getting Tighter! 15 Ways We Are Making Lincoln Scream and You Can Too!
© Apartment Prepper 2014
Please click here to vote for me at Top Prepper Websites!