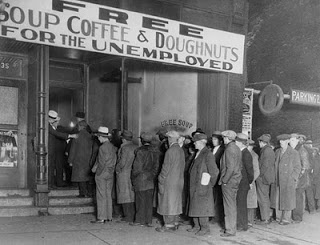 Lately, I've been noticing a lot of dire predictions about the economy.  Whether they happen as predicted or not, it's a good idea to pay attention to these signs.
This article for Modern Survival Blog caught my eye:
If you look at the chart, the patterns between today's stock market and the time period leading up to the Great Depression (1928-29) look uncomfortably similar.
Then I saw this one from SHTFPlan.com:
You can even find concerns from mainstream sources  Take a look at
Even Clark Howard who offers practical financial advice weighed in:
It's Too Close for Comfort
Last week, right before Thanksgiving, it was announced at work that management had done some "restructuring"  and a few employees were laid off.  Those of us who were fortunate to have a job were asked to increase our workload to "add value" to the team.   I felt relieved to have a job, but felt bad for the people who lost theirs.
What is your Economic Crash Plan?

Think about your own worse case economic scenario:  for many it's the loss of income.  Hopefully, unemployment benefits would cover in the event of a job lay-off.  However, expenses would have to be cut back drastically.

How long would your emergency savings last- how many months or rent or mortgage can you cover?

Start using emergency supplies to avoid having to buy food.  Find out about food banks and other services that can offer help.


Can you borrow from retirement plans?  In a crash, you need to take care of the present and keeping a roof over your head.

Consider which relatives can you move in with, if you had to.  As undesirable as the possibility might be, remember it's only temporary and it would still be better than being homeless.


If you don't have relatives you can move with, can you live in a truck or RV if you had access to one? 
It is hard to even consider these ideas, but this mental exercise will help you plan and cope better should your financial fortune take a turn for the worse.

What you can do now
I am hoping everything continues along as normal, and nothing happens.  But just in case, it is a good idea to implement a few good habits now, while there is time.
Build your emergency cash fund by using your skills to earn extra income

Go through your unwanted items.  Donate or sell them to make room for supplies that you do need.
Don't go overboard with Christmas spending.  Set a limit for gifts, decorations and entertainment and stick to it.  Pay cash for everything.  Using a card makes it easy to overspend.
Look at each non-essential bill and decide if you can do without it:  gym memberships, premium movie channels, etc.  If you are not using it, consider getting rid of the service (but be mindful of contract terms and penalties.)
Learn to cook more meals at home, you will feel healthier by avoiding fast food, and you'll save money.

Cut down on discretionary spending now, and send the extra money to savings.

Build good relationships at work and in your industry.

Stop incurring new debt, pay down debt if you can.

Stock up on food and supplies while you can

Get your checkups, prescriptions, eyeglasses and any elective medical procedures while you have health insurance

Learn survival and self-sufficiency skills now.
These measures can only help your finances in the long run.  Prepare while you can.

Camping Survival