Welcome to another Monday Musings, where we share interesting links as well as updates on the blog and preps. 
First the blog updates…
Huge Christmas giveaway starts today  Please be sure to check out the next post that follows after this one.  It announces a huge Christmas giveaway among several preparedness blogs that starts today.
Cyber Monday special sales from our sponsors  If you are doing any shopping today, Cyber Monday, please help support our blog by clicking through my Amazon link  Or, visit our fine sponsors who are all having great sales today:
Who won Rivers:  A Novel book giveaway?  Jen won a copy of the book, and she had the following comment:
I haven't experienced the devastation of the terrible storms and floods that make the news but I have been through extreme weather. It definitely brings out a side of people that you don't normally see.
We also have another book giveaway scheduled for this Wednesday – it's a good one so please come back and enter.
Now for the links…
Black Friday shenanigans.  We'd be remiss if we didn't at least include news about Black Friday frenzy.  If people get this crazy over some sales, imagine how they would be in a real emergency when everyone is fighting over food and water to survive.

But it was not limited to the U.S.:  Black Friday madness has spread to the U.K.
Black Friday: arrests and violence as shoppers clamour for discounts
Personal care storage items   Good information to know for the toiletries bucket. 
In many cases, items may last longer than their expiration dates, however, there is a shelf life to these items.  A lot of lotions start to get a funky odor when they get old, some moisturizers ingredients separate and get a strange texture.  "Your mileage may vary" is a safe bet- just check it for yourself and don't forget to rotate your items.

Skills that are no longer practiced  Many of these skills are useful, and several are considered good prepper skills.  Skills Your Grandparents had that You Don't
Tips to reduce cholesterol  Years ago, I had high cholesterol, fortunately it went down naturally without prescription medication.  I started using a lot of olive oil in cooking and that seemed to help (This is not medical advice)  This article has some good tips.
Simple tips, great results   No one can be totally self-sufficient, but taking small steps help a lot, especially during hard times.  See article below from Gaye of from Backdoor Survival.
Mapping a Road to Self-Sufficiency
Take care and have a great week everyone!
For easy ways to become more prepared, read my book: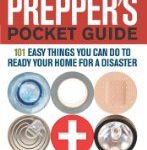 For low-cost ways to prep: