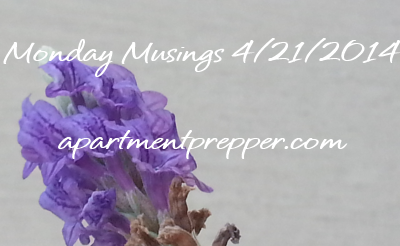 This post is by Bernie Carr, apartmentprepper.com
Welcome to another Monday Musings, where we share interesting links as well as updates on the blog and preps. 
First the blog updates…
Now that we are finally starting to get some sunny weather, I am getting ready to try cooking with the Sun Oven  I'm looking for easy recipes, so if you any favorites, please share.
Don't forget to enter our ALTAI Tactical Boot Giveaway, going on right now.
Now for the links…
Diseases to watch   I'm continuing to watch the news about the Ebola outbreak in West Africa; turns out there continues to be a cholera epidemic in Haiti, that has been going on since the earthquake a few years ago.
West African Ebola outbreak caused by new strain of disease: study
U.N. Struggles to Stem Haiti Cholera Epidemic
Speaking of fighting disease   This is a good article from Survival Doc on clothing
Your Disaster Fashion Guide: The Outfit That Fights Diseases
Glad this was said    As someone who devotes countless hours writing this blog, I have to say I am glad this article was written.   Well said, Survivalist Prepper…
Picking the Right Prepper Website
Another reason why your money buys less  The price of food just keeps on rising, first it was meat, now it's fruits and vegetables.
Attention Shoppers: Fruit and Vegetable Prices Are Rising
Organize your bag for optimum weight  Testing your gear is important; Survival Sherpa has some great tips on paring down the weight
Skills: A Gear Weight-Loss Program 
Take care and have a great week everyone!