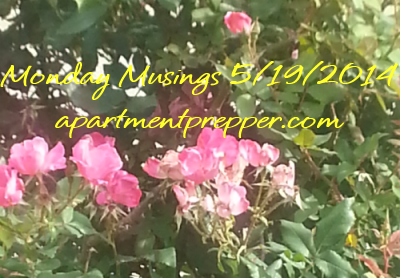 Welcome to another Monday Musings, where we share interesting links as well as updates on the blog and preps.
First the blog updates…
Prepper Chats  My conversation with John Wesley Smith of Destiny Survival Radio will be posted on Thursday, 5/22.  I will send you a link when it's up.
Soon I'll be speaking with Donna Miller over at Your Preparation Station  Chatting with fellow preppers is fun and I look forward to them.
Giveaway  Our giveaway for a copy of Food Storage for Self-Sufficiency and Survival by Angela Paskett is still going on.  Don't forget to enter.  We have a fun one coming up later this week, so come back and check!
Now for the links…
Still following this closely   3rd case of MERS virus found in the US
Illinois man tests positive for MERS virus without falling ill
Clean up and reorganize This is a great time to reassess what you have an what you need.  Here are a couple of articles to inspire you.
14 Creative Hidden Storage Solutions for the Over-Stocked Prepper
Moving tips  Apartment dwellers move around a lot, I know… These tips will help you keep the costs down.
Moving with Minimal Money: Nine Tactics for Frugal Relocation
Giving thanks   Being financially challenged wears you down, but wallowing in misery only makes it worse.  Gratitude is so much more uplifting.
Gratitude is good for your soul … and your finances
Take care and have a great week everyone!