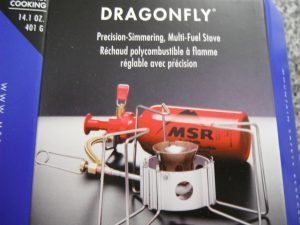 I had posted about assembling this backpacking stove a while ago (see Backpacking Stove Test http://wp.me/p1dmhM-pB).  At the time, we tested it on our kitchen counter (with the windows wide open due to possible fumes) to make sure it turned on properly and it did.
We chose this model because we wanted reliability, portability, a wide pan rest that can fit a good-sized pot and the ability to use about 3 types of fuel.   The comments in the article I received were mixed – there may be better stoves out there considering the expense.
Well, I am here to report how it performed out in the wilderness.   We had the campfire going but as I mentioned in a previous post, cooking in an open fire takes a lot longer due to having to gather firewood. (See http://wp.me/1dmhM.)  We wanted an additional place to cook to speed things up.  So we hooked the Dragonfly stove according to directions, then turned it on.  My husband lit it, and waited the prescribed amount of time (two minutes) for the flame to turn blue.  It kept sputtering, as though the fuel wasn't getting to the flame properly.  So he readjusted the fuel canister and the flame stopped sputtering.  We were able to boil a small pan of water on the stove to make a few cups of hot coco.
Later in the day, it was time to turn it on again.  He lit the stove and the flame came up, but this time it flickered and turned off.   It was fairly windy so he used the little aluminum barricade that it came with to cut the wind around it.  He tried lighting it again but nothing happened.  He checked the fuel canister and there was still half a bottle of fuel left.  He pumped the bottle to make sure there was pressure.  He believed the tubing in this type of stove is prone to clogging and that is what caused the sputtering earlier.  Finally we just put it away and just used the campfire.  My husband concluded that even though it takes time to build a campfire, it's a much easier process than trying to figure out how to make the stove work, especially when you are cold and hungry and not thinking straight.
I think we will consider other cooking alternatives next time.  Maybe we will try something similar to the 16 Brick Rocket Stove, except with large rocks, as seen here  http://sustainingfarm.blogspot.com/2010/10/permanent-makeshift-rocket-stove.html This would work if you are in an area that has good rocks that would stack.  In the last article's comments, the Primus Classic Trail Stove was mentioned by reader James.  We may check that one out since the price looks reasonable.  Readers, if you have suggestions on other good portable backpacking stoves or alternative cooking methods that do not add a lot of weight, please comment and let me know so we can try them next time.