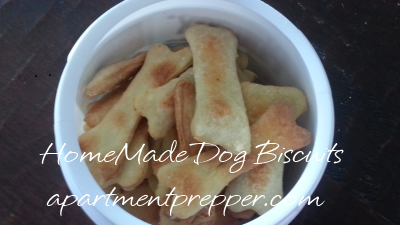 This post is by Bernie Carr, apartmentprepper.com
We were looking for all-natural, made in the U.S. dog treats at the pet store.  The affordable brands had a long list of unpronounceable preservatives and additives, and were made in China.   (I haven't forgotten about Deaths of 500 dogs blamed on jerky treats, FDA says  so we don't buy pet food from China.)  I found some that fit the bill at the farmer's market, and at specialty stores, but they were too expensive.
I decided the only way to know what ingredients are being used is to make it myself.  I searched for an easy recipe, with ingredients that are already in my storage, and found the recipe for basic dog treats on the Cesar Milan website.  I adapted the recipe to what I had on hand.
This is how I made the dog treats.
Home dog biscuits
Ingredients:
2 1/2 cups all-purpose flour (you might prefer whole wheat)
1/2 cup hot water (you may use chicken broth instead)
1 teaspoon chicken bouillon (omit if you are using chicken broth)
1 egg
bacon grease
Directions:
1.  Grease two cookie sheets generously with bacon fat.
2.  Preheat the oven to 350 degrees
3.  In a large bowl, mix the hot water with the bouillon
4.  Add the egg, flour with the bouillon water and stir well.
5.  On a floured board, mix well and keep kneading until the dough is stretchy but no longer wet.  I've had to add 1-2 teaspoons of flour.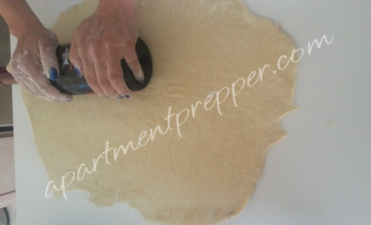 6.  Roll the dough flat.  I don't own a rolling pin due to space issues so I used a bottle.  It worked fine.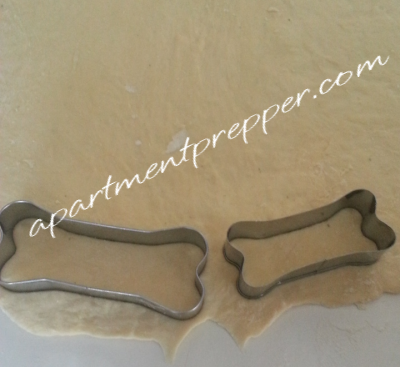 7.  Cut out the dough in your desired shapes.  I've used various cookie cutters before; this time I used bone shaped cookie cutters.
8.  Place dough pieces on the bacon greased cookie sheets and bake for 30 minutes.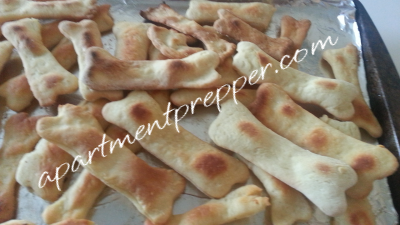 It took me about 30 minutes to mix and shape the dough, and another 30 minutes is needed for baking.  The recipe is easy to make, and does not take long  at all.  Our dog loves them.  And now, I don't have to run to the store to buy them.
Here's a link to a site with a huge variety of dog treat recipes you can try making at home:  http://nolongerwild.com/homemade-dog-treats/.
© Apartment Prepper 2017
Vote for Me!
Please click here to vote for me at Top Prepper Websites!
 Lots of great tips for everyone: