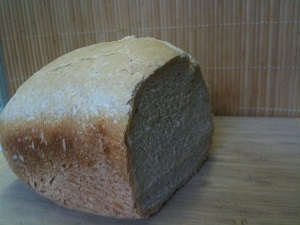 This post is by Bernie Carr, apartmentprepper.com
Bread making is good skill to have; I'd already made an artisan bread, and regularly make sandwich bread in the bread machine so I wanted to branch out.
An established sourdough starter can last for years and years, and can be passed from generation to generation.  In the old days, people even packed sourdough starter with them when they traveled, to avoid having to buy yeast.  However, since I don't know anyone nearby who has tried this, I purchased my San Francisco sourdough bread starter from Amazon.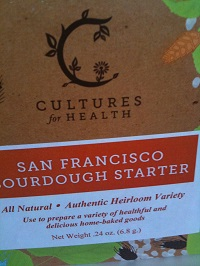 The packet contained dehydrated sourdough starter.  The instructions stated it needed to be activated by adding the the contents to a one quart wide mouth jar –  I used a large recycled glass jar.
Still following directions, I then added 1/4 cup water, plus 1/4 cup flour and stirred, making sure to add a lot of air into the mixture.  Then, I used a coffee filter with a rubber band around it as a cover.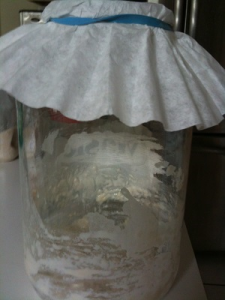 Directions said to leave it alone in a warm area for 12-18 hours.  I left it inside the oven with the light turned on.
After 12 hours I repeated the process by adding 1/2 water and 1/2 cup of flour, mixing well and allowing air into the mixture.  Once again, I left it inside the oven with the light turned on.  This time, I placed a paper towel underneath, in case it bubbled over.
After another 12 hours, the directions said to discard all but 1/2 cup of the mixture, but add 1/2 cup water and 1/2 cup flour all over again.  The discarded mixture can be used to make pancakes.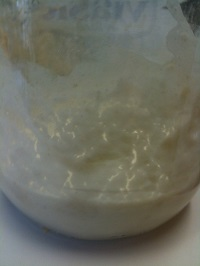 The goal is to keep the process going until the sourdough mixture keep growing until it looks light and bubbly.  It took about three days of repeating this process before it looked "light and bubbly" to me.
More and more bubbles appeared as the days passed.  The mixture also kept increasing.  It had a pleasant, faintly yeasty smell.   Extra starter can be stored in a jar in the refrigerator for use later.  I had plenty.  But once refrigerated, before you can use it, it has to be left at room temperature and mixed with water and flour to get bubbly all over again.
When I made the bread, I followed the instructions by adding fresh sourdough starter to flour, water and salt.  Then you had to leave the dough to rise for 4-24 hours.  At this time I was starting get impatient.  This sure takes a lot of time!  I did exactly that but there was a problem.  The dough did not rise to bread size.  I baked it anyway and it came out flat and hard.  But I was not ready to give up.
I checked online for an easier recipe that can be used in a bread machine.  I found one in the King Arthur flour website.  The difference is, you had to add yeast, while "real" sourdough breads should not require yeast.
I just wanted to see if I can make a loaf with a sourdough taste so I tried the King Arthur flour sourdough bread recipe
It worked and the resulting bread was very tasty, with a mild sourdough taste.  I admit I "cheated" a bit, but I was pretty pleased with the result.   It had the right amount of crust, and a fluffy texture on the inside.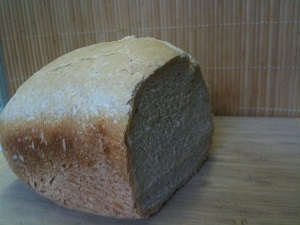 Unfortunately for my sourdough starter, after a couple of weeks in the refrigerator, the mixture started to looking brackish and had a metallic odor.  I ended up throwing it away, but at least I got one good bread loaf out of it.  I'll have to order another starter soon so I can try it again.
© Apartment Prepper 2013