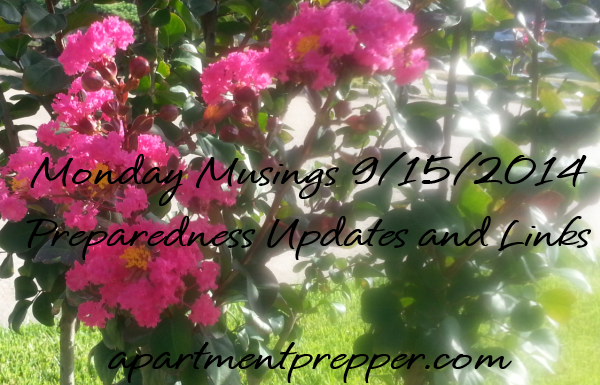 This post is by Bernie Carr, apartmentprepper.com
Welcome to another Monday Musings, where we share interesting links about preparedness, as well as updates on the blog.
First the blog updates…
So many books… so little time…
We added another book to our reading list:  Preppers:  History and the Cultural Phenomenon by Lynda King.
More on Expiration Dates
One of the most controversial topics in preparedness involves expiration dates – invariably there are disagreements about this, even among bloggers.  Reader Pierce sent me this helpful guide on shelf life on food bank products.  It has some really applicable information.  Thanks Pierce!  See Shelf Life of Food Bank Products
National Preparedness Month Series
Don't miss a great series in Prepared Bloggers for National Preparedness Month – there is something new everyday!
Mega Giveaway Next Week!
Next Monday, we will be announcing a huge giveaway, so please check back!
Now for the links…
America's Poor, Deeper in Debt Than Ever
Obama: U.S. military to provide equipment, resources to battle Ebola epidemic in Africa
What We're Afraid to Say About Ebola
Guide to Long Term Food Storage
Natural Asthma Treatment with Essential Oils
Elderberry Extract: Nature's "Tamiflu"
Your Emergency Fund Is For More Than Emergencies – Believe It!
Take care and have a great week everyone!
© Apartment Prepper 2014