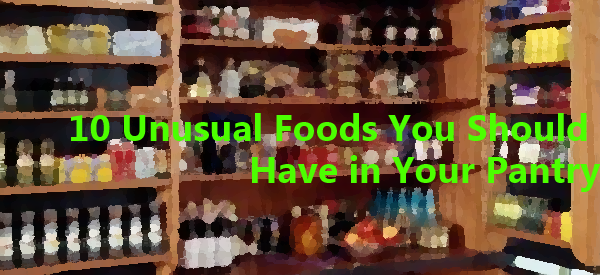 By Lisa Bedford, The Survival Mom
This post original appeared in The Survival Mom
Modern Americans probably have more food choices than any other group in the history of the planet Earth. I was told about a Japanese student who went to an American grocery store for cereal. Seeing the selection in the aisle was so overwhelming they went home without it that day.
For people used to such plenty and variety, beans and rice alone is clearly not a long-term menu plan. But keeping that much variety in one home (or even one store!) is not realistic. Worse yet, it can be hard to figure out a way to store some of our "regular" foods for the long-term so we can maintain a semi-normal diet in an emergency.
So, what "unusual" foods should you consider adding to your pantry? The products listed below are all shelf-stable, meaning they do not need to be refrigerated, and are available from companies such as Thrive Life, Augason Farms, and Ready Reserve Foods.
Survival Mom's Top 10 Unusual Food Storage Foods
This product is a sure-fire way of having shortening on hand for all your baking without having to worry about it going rancid. It's a necessity for making pie crusts and biscuits. Even more important, you can sprinkle some in a hot skillet, and when it melts, you can pan fry! What a concept!
Peanut butter has an amazingly long shelf life, even after it's been opened, but powdered peanut butter is still very useful. Every morning I add a tablespoon or so to my protein drink. It adds all the flavor and nutrition of peanuts without any of the fat found in peanut butter. You can even get it with chocolate already mixed in!
This product won't give you exactly the same flavor of butter and it doesn't quite melt, but it's still a handy addition to your pantry. Once reconstituted and chilled, it hardens and has the same consistency of refrigerated butter.
The first time I read about this product, I said, "Huh??" Now I think it's indispensable because it's a cost-effective way of having tomato paste and tomato sauce on demand and save vast amounts of space at the same time, and it's easy enough to make yourself.
5. TVP (your choice of flavors)
I know Textured Vegetable Protein isn't everyone's cup of tea, but it comes in handy when you want to add a little more protein to a casserole or soup. Just a handful can add the flavor of chicken or taco meat (a little can go a long way), and you can't beat the price.
You can still enjoy cheese enchiladas while fending off zombies with this great product! I first sampled FD cheddar cheese a few months ago and was amazed by how beautifully it melts.
When you buy this in bulk, you have the main ingredient (besides macaroni) for mac-and-cheese but also cheese sauces for veggies, casseroles, and the all-important survival food, nachos!
Yes, grapes. Canned grapes have never quite caught on (ewwww!), dehydrated grapes are raisins, but FD grapes have the same color, shape, size and flavor as fresh. They're just crunchy, and they make a great, healthy snack. Once opened, though, they will absorb moisture in the air and go from crunchy to sticky and chewy. You may want to repackage them in canning jars to retain the crunchy texture.
Now, this won't give you that wonderfully cool dollop you've come to expect, but when you make a dish that calls for sour cream, this product does just fine. Add some to mashed potatoes or a creamy casserole, and you'll never know the difference.
10. Freeze-dried cottage cheese
This was one of the first 'survival' foods we purchased. Because we had young kids, we wanted to make sure we had plenty of Vitamin D-dense foods. It sounds strange, but it's actually quite good when it's reconstituted and chilled. If the grid is down and you want homemade lasagna, that shouldn't be a problem with this and freeze-dried mozzarella cheese on hand!
These 10 unusual foods will go a long way toward letting your family diet stay closer to normal in a disaster.
Lisa Bedford is The Survival Mom. She is the author of the best-selling book, Survival Mom: How to Prepare Your Family for Everyday Disasters and Worst Case Scenarios.  You can read all about it on her Harper Collins author page.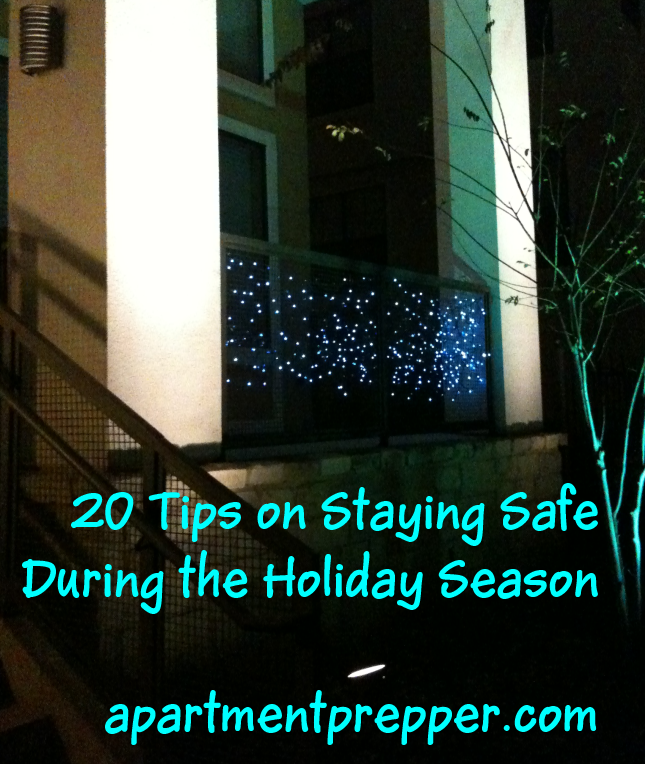 This post is by Bernie Carr, apartmentprepper.com
Thanksgiving is less than two weeks away and the Christmas season will soon be in full swing.  Theft and other crimes seem to increase when people are out and about shopping or partying and not paying much attention to anything else.
The other day the management company left a flyer on our door about a "Resident Meeting" regarding apartment safety. I was concerned enough that I attended the evening meeting after work. A couple of policemen and the building management were in attendance. The reason for the meeting was to discuss recent criminal activity in the area, and to warn residents about personal safety.
My neighborhood is in the middle of the city of Houston. If you ever visit the city, you will notice very quickly that the city does not have strict zoning laws. As a result,most areas include a mix of residential, commercial and industrial. One block could be a nice residential area, and across the street would be high rises or industrial parks, unless you live in a planned community in the suburbs. So you can live in a block with nice residences, but go two blocks and you can quickly find yourself in an unsavory looking area. Being careful and aware of your surroundings is very important. Not being critical or negative, that is just the way it is. While we carefully picked the apartment we live in, checked crime statistics and all that, crime in any area is inevitable.
Back to the meeting. Apparently, the management company decided to have a meeting due to a recent shooting that occurred in the complex. They wanted to reassure the residents that it was not a random event but a shooting between acquaintances, a "drug deal gone bad." There were no fatalities, the shooter was arrested and the victim was shot in the leg. I was still unsettled by the incident – it is not very reassuring to hear that a resident was doing a drug deal. The resident has since been evicted; at least he is not around anymore. The cops also informed us there have been car break-ins and some theft.
Staying safe during the holiday season
This meeting has just reinforced my feeling that there is no such thing as a "safe area." We need to be on guard at all times, and always aware of our surroundings. Always find out about what's going on around you. Surprisingly, for a complex this large, not a lot of tenants attended the meeting, considering it was about something important.
Maintain an alert stance and scan the people around you.  Thieves avoid people whom they perceived is too alert and may have already noticed them
If you start to have a bad feeling about your surroundings, stop and pay attention to these feelings, it is your intuition telling you not to proceed.
Thieves try to target people whom they perceive as more vulnerable: the elderly, women alone or women and children.
To avoid being targeted by thieves, think about what attracts these criminals: flashy jewelry, a large purse that looks stuffed with goodies, smart phones, shopping bags, etc.
Carry only what's necessary and leave the rest at home.
When shopping, always lock your vehicle and do not leave your items in the car, lock them up in the trunk. The cop revealed that they patrol certain malls because thieves are known to "harvest" items that people leave in the cars while shopping.
Consider a protection device such as mace, pepper spray or a concealed gun if you know how to use them and are licensed in your district.
When in public, avoid being engrossed in your phone or tablet.  This sounds simple, but I have seen so many people with their heads buried in their cell phones even while crossing the street.
When walking to your car, have your keys ready in your hand, no fishing around the parking lot for missing keys. Brief inattention to your surroundings can cost you your life. If leaving at night, try to walk with someone or have security escort you.
Train the kids to only open the door to family or friends who know the "password" and never open the door to strangers.
Keep your curtains or blinds closed. The more passersby see your appliances and items, the more likely a thief will get interested in you.
Consider an alarm system or a dog if your building allows it.
Make sure you always lock your doors and windows.
Look around the area before you open your door or garage, as thieves have been know to follow people in as they get home.
Be careful about announcing your activities and plans on social networking sites such as Twitter or Facebook, this will give potential thieves a "heads up" that your house is available.
Before walking or driving up to an ATM machine, make a note of who is in the area.  Is there a car just parked nearby?  Are there a lot of bushes where someone can hide and jump out at you?  If you are not sure, just bypass it and go somewhere else.  The most you will lose is time and possibly gas, but at least you'll be safe.
When in crowded shopping centers, be alert for pickpockets especially when someone bumps into yo
If you are working late, walk out with a co-worker or call security and have them walk you to your car.
If you feel you are being followed home, don't pull into your driveway.  Instead, keep driving and go to a crowded area, police or fire station.
Sorry if this article sounds a bit paranoid, but these are the times we live in. A big part of survival mentality or preparedness is paying attention to your own personal and family security.
© Apartment Prepper 2014