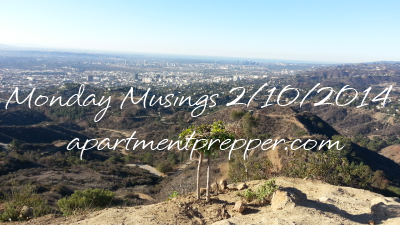 This article is by Bernie Carr, apartmentprepper.com
Welcome to another Monday Musings, where we share interesting links as well as updates on the blog and my own preps. 
First the updates…
Site cleanup  I've been doing some cleanup behind the scenes to improve the site's loading times as well as general appearance.  I am condensing the links on the right sidebar – this is still a work in progress as I find ways to make it more streamlined.  You may notice the blog roll tab is missing – it is currently under evaluation.  I'd like to make sure the linked sites are active and fix any broken links.  I also added a new Sponsor page.
Emergency storage inventory  At the Apartment Prepper household, we're also cleaning up our emergency storage – going through old stock, rotating stored items and evaluating what else we can fit in the space.  I am about to open up and use some old items – as always, I will take photos and let you know how they fared.
Now for the links…
Being debt free is a worthy goal  See what it takes to be one of the debt free.
$1000 by summer  Start saving now with
14 Simple Ways to Save $1,000 by Summer
Save money and the environment  Whether you're trying to be more self-sufficient, save money, or help eliminate trash, you can't lose by at least trying some of these out.
Attack on the power grid  It took a while for this to appear on the news, but it has a lot of people wondering whether it was a random, isolated incident, or a trial run.  See
 Ex-federal official raises concerns over terror attack on power grid
Off grid living   It's interesting to me how a family adjusts to living off-grid, without the utilities that many think we can't live without.
Living Without Lights (or water, or electricity…)
Take care and have a great week everyone!
© Apartment Prepper 2014
Please click here to vote for me at Top Prepper Websites!
THIS E-book is about prepping on a small budget