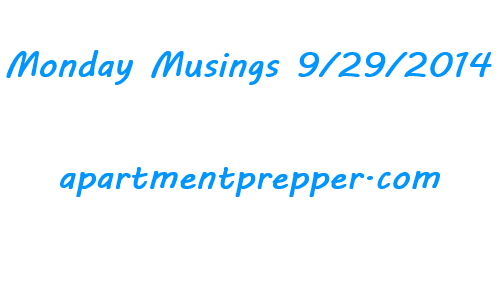 This post is by Bernie Carr, apartmentprepper.com
Welcome to another Monday Musings, where we share interesting links about all things preparedness, as well as updates on the blog.
First the blog updates…
I haven't had as much time to work on Apartment Prepper this past week due to a tight work schedule.  I hope this week will be much better.
Fall is here and I am so glad the weather is starting to cool off (not a let yet, but I am grateful)  I have some interesting projects coming up, one of them is how to make a heat retention cooker aka, a wonder oven, thanks to instructions from fellow blogger Megan who runs the My Food Storage Cookbook site.  As always, I will let you know how it turns out.
Now for the links…
One Awesome Article site launch
Todd of Prepper Website has a neat new site: www.oneawesomearticle.com. The idea is that guys will receive one AWESOME article in their inbox a day.  It is geared towards guys, but you ladies will want your guys to get this to make them a better…..guy.  The article will include a link to an awesome article on the web, special offers, book suggestions or cool products.  This great info will only come through the daily email, so make sure you sign up.  This is not a paid endorsement.  I just know that after visiting  Prepper Website for several years now, I can always count on Todd to point me to some great leads on the web.
Live Free or Die examines one of America's most remote subcultures, following five individuals living in the country's backwoods and swamps with few of the trappings of modern society. Freed from the constraints of a technology-fueled existence, they are modern-day pioneers who rely only on skill and intuition to harness the natural environment. Here is a clip, courtesy of National Geographic.
Live Free or Die: Road Kill: It's What's For Dinner!
North Carolina homesteaders, Tony and Amelia, cook road kill given to them by Amelia's Dad.
Link: http://channel.nationalgeographic.com/channel/live-free-or-die/videos/road-kill-its-whats-for-dinner/
Embed:
More links…
Chlorine Bleach For Sanitizing Raw Fruits And Vegetables
An Open Letter to My Past Female Students Entering College
A Prepared Cook's Guide To Creating An Ideal Kitchen Space
Castile Soap – Make Chemical Free Products for Your Family
Getting a Child and Yourself Ready for College
Take care and have a great week everyone!
© Apartment Prepper 2014