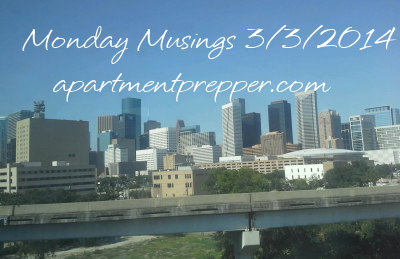 This post is by Bernie Carr, apartmentprepper.com
Welcome to another Monday Musings, where we share interesting links as well as updates on the blog and preps. 
First the updates:
Who won Prepper Pete Prepares?  Stephanie won the book.  She shared the following comment:  We are just now starting our kids on official preparation stuff, but, having several kids in of family, they have always had chores and have been taught how to cook at appropriate ages. We are starting with different ways of making fire and moving on to finding water and making shelter. Older kids should heave extensive preparation/survival knowledge and little ones should be brought up with it as a lifestyle. We hope to do just that.
Lots of info in one place.   I am happy to belong to the Prepared Bloggers group – you'll find a wealth of information from this great group of bloggers.  https://www.facebook.com/PreparedBloggers
Now for the links…
Storage facilities and prepping  The author Jay MacDonald contacted me and a few other bloggers about storage facilities – check out http://blog.sparefoot.com/5457-doomsday-prepping-storage/
Here's a good deal if you are interested in Ham Radio:  Ben at Advanced Survival Guide.com told me about this.  They do this program every year in hopes that it motivates folks to get their Ham ticket.  The Centerfire Antenna 2014 Ham Incentive Program begins on March 1st 2014 and ends on June 27th, 2014.
To defray the cost of the FCC Exam fees, Centerfire Antenna and US  Dipole are offering a $15.00 discount to all first time US hams and US hams that upgrade their license before the 2014 ARRL Field Day. You are eligible for this offer if you receive your first call sign or an upgraded license between March 1st, 2014 and June 27th, 2014.
More details are available at the Centerfire Antenna and US Dipole websites-click on the links below:
http://www.CenterfireAntenna.com
http://www.USDipole.com
Do it yourself solar power  You can buy solar chargers, but for those who want to learn how to do it yourself, here are a couple of interesting links:
 How to Build a DIY Solar Laptop Charger
Here comes credit card debt  Adding to credit card debt when income is already dropping does not bode well but that is what's happening.  See

 Personal income faces first year-over-year drop since recession ended: As incomes collapse, spending via consumer credit begins to increase.
I really need to stock up on this   Tea tree oil has so many uses, it's a great addition to your emergency supplies.

Even more uses for tea tree oil here
Take care and have a great week everyone!

© Apartment Prepper 2014
Vote for Me!
Please click here to vote for me at Top Prepper Websites!