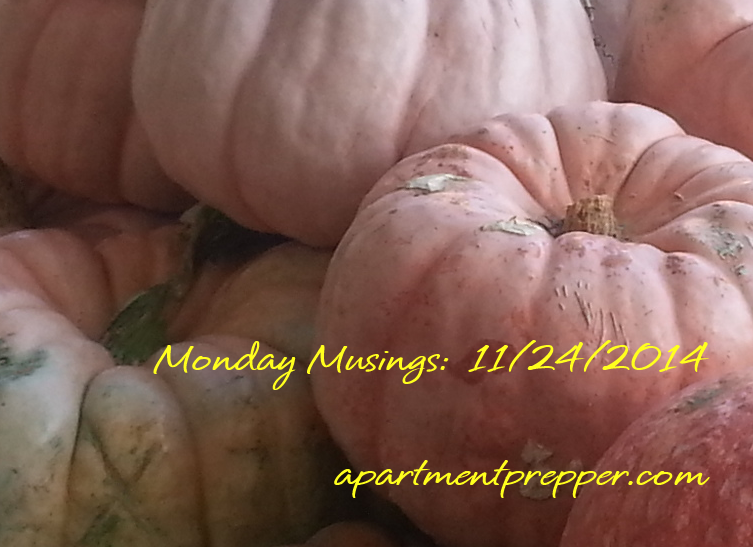 This post is by Bernie Carr, apartmentprepper.com
Welcome to another Monday Musings, where we share interesting links about all things preparedness, as well as updates on the blog.
First the blog updates…
We've had back to back giveaways so I haven't posted Monday Musings in a while.  But this week you will get double the links because I saved them up.
Black Friday Giveaway coming up!  Check back with us this Friday 11/28 for a great giveaway we have planned with our sponsor, The Berkey Guy – it'll be worth your while to stop by!
Food Storage Entree tryouts  I mentioned a while back that we have been cutting back on the food budget and using some up of our food storage items.  Some of our old favorites are as good as ever – Mountain House Noodles and Chicken stands out.
But some do not work out such so well.   I had a packet of Wise Co. Beef Stroganoff.  I followed the package instructions and gave it enough time to cook.  The result was more like a soup than anything else.  I was not expecting soup for a Beef Stroganoff entree.  To remedy the situation, I used a colander to drain out the excess sauce.  Maybe it's a personal preference but I didn't care for the mushy taste and texture.  When trying out food storage I always consider whether I'd think differently if I were starving in a survival situation.  I am sure I'd be grateful to have food at that point.  So if you have it for food storage, hang on to it.  I still ate it for lunch, but this not one I'd eat for everyday meals.
Now for the links…
Intel boss' warning on cyber attacks no joke, say experts
100+ Non Food Items to Have in Your Emergency Supplies
Rich Becoming Overlords, Poor Becoming Serfs: "We're Approaching a New Middle Ages in America"
4 Life-Saving Tips for Vehicle Preparedness
Gravity water filter scientific test results released by Natural News: Big Berkey, ProPur, Zen Water Systems and more
15 Organic Fruits & Veggies That Aren't Worth Paying More For in 2014
Gag Gifts for Preppers – The 2014 Holiday Guide
5 Beauty Products to Stop Buying and Start Making at Home
Take care and have a great week everyone!
© Apartment Prepper 2014
Check out these Amazon deals!
Please click here to vote for me at Top Prepper Websites!