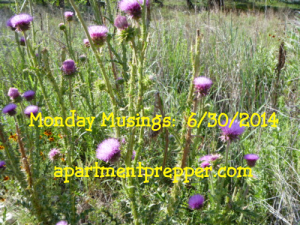 This post is by Bernie Carr, apartmentprepper.com
Welcome to another Monday Musings, where we share interesting links as well as updates on the blog and preps.
First, the updates…
It's been a busy summer for the Apt Prepper household so this is going to be a quick post.
Who won Prepper's Long Term Survival Guide by Jim Cobb?  We held the drawing and the winner was Pierce, who commented:  My main concern for long term right now is ignorance. The wife and I live in an apartment right now, so the plan is to gather my mother and siblings, and then head to my in-laws. The in-laws are the only ones with a sturdy house and fenced in yard. Problem is that the family is refusing to listen to logic when it comes to preparedness, i.e. no one wants to stock up water or buy water filters. We will make due, but I worry that the ignorance and stubbornness of certain family members will make things way more difficult than they would be. I'm working on educating the family, but it's frustrating when no one wants to plan further than "lock the doors, open a beer, and let it all blow over".
We had lots of comments to this post – clearly surviving for the long term is a huge concern for many of our readers.  We will explore this issue further in our blog posts.
This week we are giving away Crafting with Paracord 50 Fun and Creative Projects Using the World's Strongest Cord - don't forget to submit your entry, you have until Friday, July 4th.
Now for the links…
Is the international monetary system nearing collapse?
Americans are getting into debt to afford food, gas
How to Use Ebay to Find the Most Affordable Silver
10 Tips For Getting Rid Of The Junk In Your Life
12 Survival Hacks Using Just Leaves
Facebook Manipulated 689,003 Users' Emotions For Science
Take care and have a great week everyone!
© Apartment Prepper 2014
Show young kids that being prepared can be fun!
Please click here to vote for me at Top Prepper Websites!