I was a bit hesitant before agreeing to review a tactical training DVD called "Own the Night"  After all, being an apartment dwelling mom, I was not sure there would be a need for "owning the night"  But after considering what can happen in the event of a large scale collapse, when no one is safe, especially at night, I thought it would be worthwhile to to find out about it.
The DVD features tactical training exercises to help you become more proficient in combat at night.  This would of course only apply in the event of a total collapse scenario if there were no rule of law, and not for "normal" times.  Some of the lessons that stand out:
–what to do when you're ambushed
–learning to shoot from awkward positions
–learning to shoot from cover
–what to do if you are running out of ammunition while fighting
Although this topic may not appeal to everyone, part of prepping is the possibility of having to defend yourself with weapons, and confrontations are likely happen at night.  If you are an advanced prepper, someone who has a military background or who trains constantly, you likely will not learn anything new.   However, if you consider yourself a beginner to average, then there are some very helpful tips that can be learned from this training.
To get the most out of it, and be able to practice the training recommended, you would need to know someone whom you can train with at night, and some space, such as vacant land where you can practice.
Mr Apt Prepper watched the DVD with me and he picked up a thing or two.   You would likely learn some good pointers as well.
The Giveaway:
A copy of Own the Night DVD is reserved for the winner.
For a chance to win, just leave a comment below:
How do you feel about defense as part of their overall preparedness plan?
OR
What type of defense are you considering?
The winner* will be chosen at random on Saturday,  Sept, 21 at 8 pm Central.
*Winner will be notified via email.  Winner must reply to email notification within 48 hours or another winner will be drawn.
Get the real deal. Whether bugging out or sheltering in place, you can never have enough clean water for survival:
For your water purifier needs, please visit
: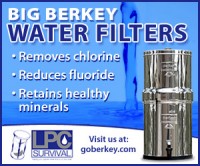 For beginning preppers
Good ideas for building a food storage plan can be found here:
DebtProof Living