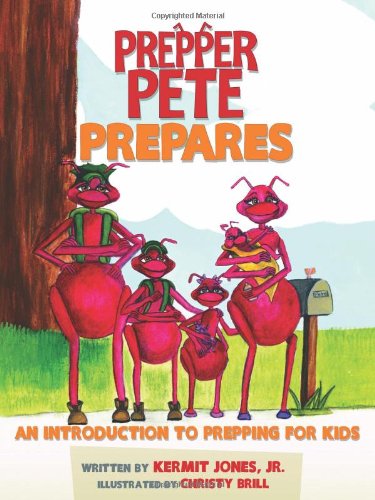 Today we are looking at something different:  Prepper Pete Prepares, by Kermit Jones,  a children's picture book about prepping.
Upon reading the book, I thought it would be a great addition to our AP Book Feature.  I must say even adults who are "in denial" about the need for prepping would benefit from reading this book.  I sent Kermit a few questions related to kids and prepping and he graciously sent us the following responses:
1.   When do you feel it is appropriate to start getting kids involved in prepping? Is there a specific age or maturity level?
Starting with your second question, I firmly believe it is the latter of the two. That is, parents should know the maturity level of each of their children and make their own decision. It is vital to not simply equate age with maturity (they are not synonymous), but with that caveat aside, I generally propose that the younger, the better. Many parents mistakenly assume that when something happens, their kids will simply fall in line, but that's only going to happen if they've been consistent in their expectations until that point.  Whereas age appropriateness is key, more discussion will generally lead to more understanding.
It also happens to be the point of "Prepper Pete Prepares" in that it provides a launching point for discussion that isn't designed to scare kids. Instead, it prompts the opportunity to see where each child is in the process, and engage them from that point forward. The depth of discussion should be tailored to each child in question, though I readily admit that parents often don't give their kids enough credit for what they are able to understand (assuming the information is presented properly).
The primary warning would be that parents should keep in the back of their mind that kids sometimes can't easily distinguish between possibility and reality – they should be clear that there is no immediate danger or reason to be afraid.  I think Prepper Pete's signature quote really hits home: "Some people prepare because they are afraid. Our family doesn't have to be afraid… because we are prepared."
2.   A number of people generally get worried about getting kids involved in certain prepping activities, while some get them involved at a young age for things like fishing, hunting etc.  What activities do you recommend parents involve their kids?
That is a great point. Skills like hunting and fishing can serve a dual purpose of both hobby and Prepping. Many people who don't consider themselves Preppers engage in those activities, and they can be useful in both everyday life and a TEOTWAKI scenario.  I recommend that parents realize that the best prepping skill they can teach their kids is critical thinking… and that will serve them well throughout their life, regardless of circumstances.
That means recognizing and understanding that Prepping skills can be both generic and useful in a variety of situations in addition to Prepping.  The biggest advantage, however, is that it helps prevent kids from freezing due to fear.  They gain confidence in themselves so that they can, in fact, act.  And simply acting is often what saves lives.  The old adage applies – you can't steer a parked car.
I also recommend teaching kids other skills such as how to build a fire, garden, can veggies, use weapons, defend themselves, and much, much more.  Reading books that engage critical thinking skills and imagination are great Prepping activities, even if they aren't obvious on the surface.  And for the record, anything that encourages responsibility (such as assigned chores, etc.) should all be considered part of "Prepping."
My philosophy is that Prepping should be a lifestyle – not an event. Parents shouldn't let learning opportunities pass them by.  They can even teach fun skills independent of "Prepping" and link it back at a later time.  For instance, they can teach their kids how to build a fire without matches for the purpose of making s'mores.  Obviously, it could later save a life in the cold.
3.  Preppers generally like to keep their prepping as private as possible; however, kids may not understand the importance of "loose lips sink ships."  What is the best way to explain secrecy/privacy to young kids without scaring them?
Operational security, or OPSEC, is definitely a concern.  Unfortunately, parents often explain "what" their kids should or should not be doing, but they fail to explain the "why" of it.  Kids (and adults, for that matter!) need to be able to connect actions with motivations.  Again, parents should be age appropriate about this, but I think many parents simply fail to sit down with their kids and have a conversation on the topic.  They should talk about it with their kids – and talk about it often.  Taking time to ask kids questions and see what they think will often clue parents in on the approach they should take.
If someone has multiple kids, the older ones can really help get the point across to the younger ones, as well.  When my ten year old daughter tells my four year old something about the importance of "keeping a secret," it carries a different (and in this case, positive) weight than when it is just mom or dad saying it.  It becomes important from a "peer perspective" with an attitude that, "if it's important enough for them, it must be important enough for me, as well."  It also engages the older kids appropriately and gives them a sense of responsibility towards keeping the family secrets.  Parents can't do this, however, if they don't talk, question, and know where their kids stand.  They just need to be sure it's a conversation – not an interrogation!
Also, it's important to let kids know what they CAN say, and who they can say it to.  If they can tell something to a close relative or friend, then it can act as a "relief valve" of sorts.  Parents will also be able to observe the filters and perceptions their kids have in place.
Finally, it's important to have graduating levels (age/maturity appropriate) of responsibility.  On the one hand, parents shouldn't mistakenly assume their kids know nothing (they always know something). On the other, they don't have to provide them with every last detail.  Perhaps only a portion of information is needed, and it may be enough to convey their purposes.
4.  Please tell us a bit about your background.
I'm a husband of one, father of four, and a Chaplain in the Navy Reserves. After graduating from the Naval Academy, I spent a few years as a Surface Warfare Officer before transitioning into ministry.  I've been fortunate to live in Japan for four years and several places in the U.S.  I was trying to figure out how to explain the world of Prepping to my own daughters and couldn't really find much information out there on the topic.  So I started by writing "Prepper Pete Prepares" and it's taken on a life of its own, growing into two magazine columns, a few website article and several podcasts.
5.  Any plans for other books?
Definitely!  Prepper Pete's "Gun of a Son" is a gun safety book for kids and should be on the market in late February.  March should see Prepper Pete's "Be Prepared!" which covers steps every parent should take to help prepare their kids for a wide range of emergency situations.  "Survivalist Sam Stocks Up" (the Four B's of Prepping) and "Prepper Pete Gets Out of Dodge" (Bugging out and OPSEC) are coming later this year.
Additionally, I'm launching a new chapter book series called "The Survival Kids" which I hope to be a mix of Boxcar Children, Magic Treehouse, McGyver, and James Wesley Rawles.  Two of my kids are a bit older and I want to provide something for that age range, so I expect it will be out by mid-year.  For those who want to keep track, I invite them to like our Facebook page (www.facebook.com/PrepperPeteAndFriends) – where we'll be giving out a free book at the 500 Likes mark.
Our thanks to Kermit Jones for participating in our Book Feature and for addressing our questions thoroughly!
Now for the giveaway:
One copy of Prepper Pete Prepares, by Kermit Jones is reserved for the winner.  Please post your answer to the following questions in the Comments.
How much involvement should children have in prepping, and why?

The winner* will be chosen at a random "Pick a Giveaway Winner" drawing on Saturday, March 1st at 8 pm Central.
*Winner will be notified via email.  Winner must reply to email notification within 48 hours or another winner will be drawn.
THIS GIVEAWAY HAS ENDED.
© Apartment Prepper 2014
Vote for Me!
Please click here to vote for me at Top Prepper Websites!