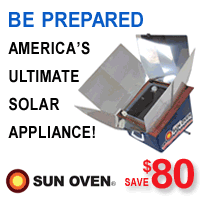 Let me introduce you to our new sponsor, SUN OVEN® The Ultimate Solar Appliance!

I always recommend having a few alternate ways to cook food, and the Sun Oven is a good one.  Solar cooking in a SUN OVEN®  is easy, fun, natural, and nutritious, and environment friendly.
No energy costs so you'll save money
No pollution
Food can be baked, boiled or steamed at temperatures of 360 to 400 degrees F.
Keep your house cool in the summer by keeping the cooking heat outdoors.
Apartment dwellers or anyone living a small space can set it out in a small balcony or yard
Portable – When closed, it's about the size of a small suitcase.
SUN OVENS®  are ideal year-round for emergency preparedness, camping, everyday use in your back yard, on a boat or in the event of a power failure.
TAKE ADVANTAGE OF THIS COUPON!
This month, Sun Oven is offering Apartment Prepper readers an $80 discount on a SUN OVEN with a Preparedness & Dehydrating Package. This package contains everything you will need.  Click on this link to get the discount coupon: https://www.sunoven.com/apartmentprepper
Check them out!