This post is by Bernie Carr, apartmentprepper.com
We are rotating the first batch of rice we stored away and replacing it with the new batch.  I bought the rice back in April 2010 but did not repackage it for for long term storage until November 2010.  Usually, rice that is left in a pantry with no special packaging will last one to two years.
Since this is the first time I am using my rice storage I was really curious as to how the mylar bag/oxygen absorber packed rice held up.  We don't keep it especially cold in our apartment – usually 75-78 degrees, and it does get humid indoors sometimes.
First, Mr. Apt Prepper opened up the five gallon bucket.  I didn't realize they are not the easiest things to open, which is actually a good thing, because you know the contents are safe.  After he released the plastic zip seal, he had to slowly pry open the lid with a butter knife.  It would have been easier to have a bucket opener so I added one to the Amazon wish list.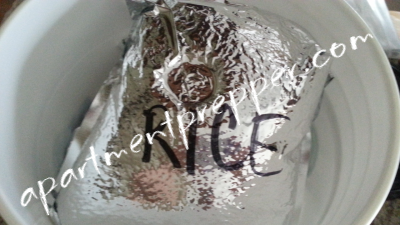 Once opened, we examined the mylar bags inside and found them to be the same as when we packed them nearly four years ago.  The bags were still very much air tight as they shrink around the food once the oxygen absorber activates.  When I opened a bag, I found that the oxygen absorber was still soft and fresh, and did not harden as expired ones do.  I poured the contents into a jar, and cooked up a batch.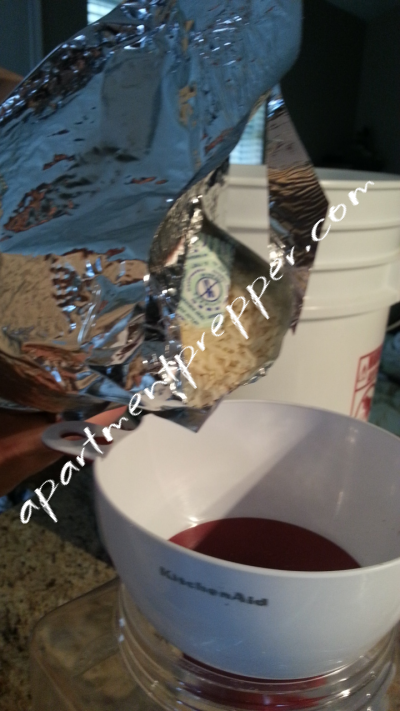 The rice tasted good and there was no difference in taste or texture at all.  I am really glad the process works, and feel confident the food storage will hold up for many years.
Buying food in bulk and repackaging it yourself is a cost effective way to store for emergency long term storage.  As long as you keep rotating your food, it will not go to waste.  If you'd like to get started repackaging bulk food for long term storage, the easiest method is described here.
© Apartment Prepper 2014