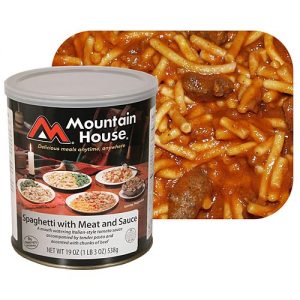 I saw the article "Mountain House Confirms Freeze Dried Food Shortage" over in SHTFPlan  and read it with interest.  It mentioned that many small distributors are out of Mountain House #10 cans.  The large distributors have a few cans, however, many of the popular choices such as Spaghetti with Meat Sauce (shown in the photo above) are out of stock or back ordered.  So I thought, what about MREs?  Well, I found that MREs are also out of stock at my usual sources.  The article goes on to explain the main reason cited for the shortage is the high demand.   There must be a lot of people concerned about inflation and possible food shortages that it actually caused a freeze dried food shortage.  This is not good news for those of us who don't have a lot of storage space and like portable foods such as MREs and #10 cans.  You can pack a lot of servings of freeze dried foods in #10 cans, but now that they are in short supply, we would need to turn to other forms of food storage.
Bulk food is still very plentiful and fairly affordable.  Now is the time stock up on rice, flour, sugar and other staples.  Just make sure you package them properly.  For instructions, please refer to my previous article, "Survival Food Storage"
Check if you have an LDS (Latter Day Saints) food warehouse in your city.  They sell bulk foods at good prices, and can help you get started with bulk storage.  You do not need to belong to their church to shop, but you do have to call in advance so they can schedule you with a group.
If you are looking for an MRE substitute, Rourke over at Modern Survival Online mentioned a great idea in his post.
Canned foods are still a great buy, especially with holiday sales going on.  Just make sure you buy only what your family will eat.
Make your own.  If you own a food dehydrator, you can supplement your food storage with your home made foods.
You may remember the ammo shortage about a year ago.  We could not find ammo and had to show up at the Bass Pro Shop early in the morning after the delivery truck left just to snag a couple of boxes if .22s and 9 mm bullets.   Fortunately, supply is back up on ammo now, so I am hoping that freeze dried food inventory will go back up to normal levels very soon.  However, this just goes to show that the time to prepare is when food stocks are plentiful as you never know when shortages occur and when supplies will go back to normal.