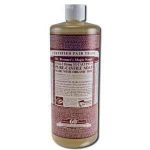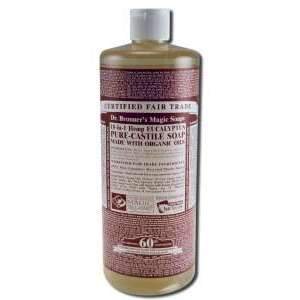 I originally picked up the unscented version of Dr. Bronner's Magic Soap for backpacking.  It was highly recommended by experienced campers and backpackers because it is organic, bio-degradable, packed in recycled plastic AND not tested on animals.  Mainly, I picked it because I did not want to attract bears.

Being the skeptical person that I am, I was  suspicious about how good it really is.  Because the product is a low suds soap, I was not convinced about its cleaning ability for food encrusted dishes.  However, when we used it to wash dishes at the backpacking trip, I was pleasantly surprised.  Dr. Bronner's soap actually worked well in cleaning dirty mess kits and pots.   You actually use very little, but it goes a long way.  After we returned, I packed away the unscented bottle in the "go-bag."
That was the first part of my review.  Last week, I discovered I had bought up the Eucalyptus scented version, but hadn't gotten around to using it.  Now I was ready to test it on myself.  I used it on a bath sponge and lathered up.  The eucalyptus smell is lovely; my entire shower smelled like a fancy spa.  It lathered just enough to scrub everywhere.  I also tried it as a shampoo and it cleaned hair pretty well without stripping it.  All in all, I felt clean and refreshed after the shower.
According to the product description, Dr. Bronner's soap will also work on floors, walls. fruits and vegetables.  After testing it twice, I have no doubt it will deliver.  However, I am not about to use my eucalyptus scented one on floors, walls or fruit.  I'd like to save that one for me.
Being the all purpose product that it is, I think I will stock up on Dr. Bronner's.   After checking the label, I found out yet another thing that is going for it – it is made right here in the U.S.   I give Dr. Bronner's Magic Soap a big thumbs up!
For easy ways to become more prepared, read my book: