A couple of months ago, I posted about an Herb that was Grown from Trash that generated a lot of interest.  The experiment worked so well I still have fresh green onions I can use anytime.
One of the comments (thanks Alison!) mentioned it is possible to try this with celery.   So I decided to try it the next time I had celery.
I used up the celery and only the stump was left.  Usually I throw this out in the trash, but this time, I saved it.  I did cut it straight across so all stems were even.
Here is a photo on Day 1.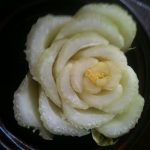 See the side view here.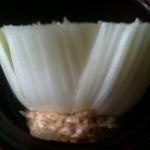 I filled a shallow bowl with about 1/2 inch of water and left it on a sunny window.  I added water every couple of days.
This is what it looked like on Day 10.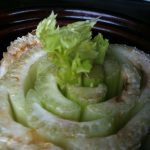 I left it another seven days and this is what grew: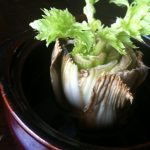 The sides do get shriveled up but the middle stems keep getting taller.
I planted the whole thing in a pot and it continues to grow.  The growth is not as rapid as the first two weeks but it will eventually grow a whole new celery plant that I can use.
There are other things that will grow such as carrots and potatoes, however I believe they need a bit more room and some other steps to successfully grow and harvest.  Jack who runs Suburban Survival Blog suggested you can grow garlic just as easily.  (Note:  Fall is the best time to grow garlic.)  I have seen old garlic can grow green shoots that can be planted.  This proves that even with no budget for gardening, you can grow a few things.
For more fast and easy tips to become more prepared, read my book: