This post is by Bernie Carr, apartmentprepper.com
Due to lack of kitchen space I have not taken up canning, but it is definitely in my "to do" list.  But I have tried a few ways to preserve food, such as drying without a food dehydrator.  Today I will show you a very easy way to make marinated mushrooms.  It  is a variation of the recipe that appears in my first book, The Prepper's Pocket Guide.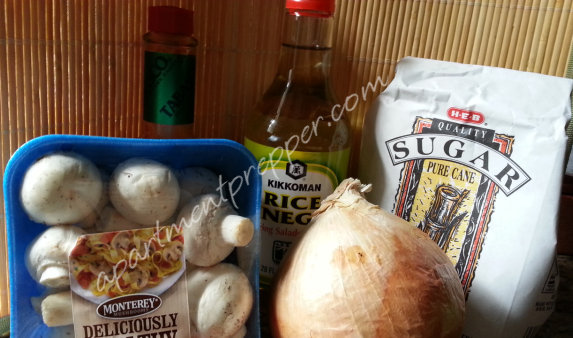 I love the ones they sell at Costco, but they can be pricey especially if you eat them all in one day.  But if you learn how to make it yourself, you can make lots of it and it won't hurt your wallet.  Plus, you know exactly what's in it, so it is much healthier than store bought.
Here is my easy marinated mushrooms recipe:
Ingredients:
pack of mushrooms
1/2 cup rice vinegar
1/8 cup of sugar
1/4 cup olive oil (not pictured)
2 cloves garlic
1/2 of a small sweet onion
small jar of pimentos
dash of Tabasco sauce
salt to taste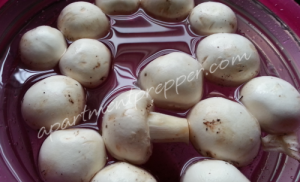 1.  Clean the mushrooms.  This recipe was given to me by my Aunt O who told me you must never wash mushrooms; use a brush to clean them.  However, the directions on the packaged mushrooms I got from the market says "Wash before using" so I am going with washing them.  Aunt O will not likely read this post, so let's just keep this between us.  I washed and soaked the mushrooms and boy were they dusty!
2.  Dry the mushrooms on a paper or cloth towel.
3.  Mince the garlic and chop the onion.
4.  Mix the rice vinegar, salt, sugar, olive oil, tabasco sauce.  Add the garlic and stir well.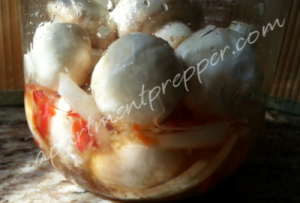 5.  Place the mushrooms and onions in a jar or bowl.  Add 1/2 of the small jar of pimentos, or about 1.5 tablespoons.
6.  Pour the vinegar mixture over the mushrooms.
7.  Refrigerate overnight.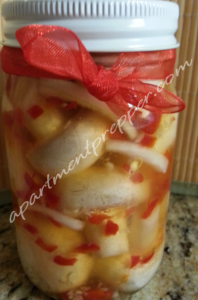 You will notice the mushrooms shrink by the next day.  They are best two days after you make them.
These marinated mushrooms are always a big hit at potlucks, and they make good hostess gifts as well.  If you are giving them out as gifts, transfer to a nicer jar and decorate if you wish.  Or, keep them for yourself and eat!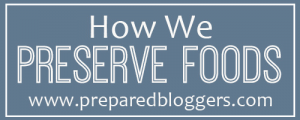 Join us as we share different reasons and methods of how we preserve food to create a long-term storage plan for our families. Don't let living in a small space or having a tiny kitchen stop you from trying some of these out! Many projects are easy enough for the time and space challenged. Click on each link to be taken to a new blog with helpful information and tips.
Mom with a PREP – How to Dehydrate Ginger and Make Ginger Powder
Preparedness Mama – Make Jam Without Pectin
Mama Kautz – Dehydrating
Busy B Homemaker – Freezer Jam
Ed That Matters – Anyone Can Do It: Fool Proof Food Storage
The Homesteading Hippy – How to Use Your Pressure Canner
Montana Homesteader – Making and Preserving Cherry Pit Syrup
Are We Crazy or What – How to Dehydrate Cherries
Your Thrive Life – How I Preserve Food: Meals in a Jar
Melissa K Norris – Re-Usable Canning Tattler Lids-Do They Really Work?
Real Food Living – Preserve and Store Grains wiith Dry Ice
Cooke's Frontier – Smoking
Homestead Dreamer – Water Bath Canning
Evergrowing Farm – How to Preserve Red Chile
Survival Sherpa – Modern Mountain Man MRE's
The Backyard Pioneer – Fermentation
Trayer Wilderness – How We Preserve Food
Living Life in Rural Iowa – Vegetable Soup
The Organic Prepper – How to Make Jam without using added Pectin
© Apartment Prepper 2014
Please click here to vote for me at Top Prepper Websites!