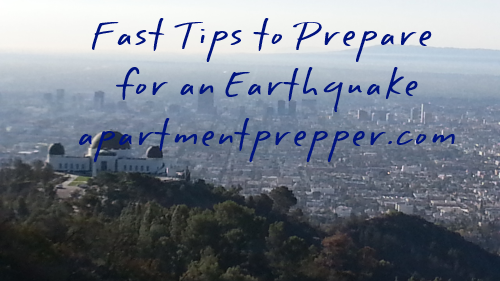 This post is by Bernie Carr, apartmentprepper.com
The recent earthquakes in Southern California had us worrying about our families and friends who live in the Los Angeles area.  I was relieved they were fine but with a lot of frayed nerves.  I don't usually post on Sundays, but I am hoping people will take a few steps to get more prepared before a bigger earthquake happens.
Earthquakes are always unexpected, so preparations need to be made as soon as possible and maintained are part of everyday living.
How do you prepare for on earthquake?
Find the safest place to be
Identify the safest spots in each room and let all family members especially kids, know how to find them.  Under a sturdy table or against an inside wall are some areas to consider.
While the earth is shaking, remember to
Drop – try to be low to the ground so you do not get knocked down.
Seek cover – protect your head and neck, and try to get under the sturdy desk or table mentioned above.
Hold on – to keep your balance, hold on to something firm until the shaking stops.
Fasten your furniture and appliances
Secure large furniture such as bookshelves and large appliances to the walls to prevent them from falling on top of you in the middle of the night.  You can use brackets or straps to secure even a large screen TV.
Consider the placement of mirrors, large picture frames and other heavy objects.  They may look good over the bed or couch, but they can fall on people very quickly when an earthquake happens.  If you must have them close to you, at least make sure they are secure against the wall.
Have an escape route
Know all the exits out of your home or building should it become unsafe.  If you live in an apartment, get familiar with all the stairways and exit doors.
Keep comfortable shoes next to your bed.  Resist the desire to bolt out of bed and run barefoot – you may be stepping on broken glass.  Keep flashlights next to you where you can easily reach for them.
Three days of food and water is not enough
A lot of people I used to work with when I lived in earthquake country always cited they were protected by a ready made emergency kit that had three days worth of food and water.  Keep at least a week's worth of food and water to get started.  Include a gallon of water per person per day.
If you have an "Earthquake Emergency Kit" open it before and earthquake happens.
They are better than nothing, but when I actually opened one, I found a couple of servings of instant noodle soup, aluminum packets of water, a handful of candles and a couple of match books.  A better step is to build your own, and tailor it to your family.  Include aforementioned food and water, lighting sources, backup ways to cook, radio and batteries, as well as a first aid kit, including prescription medicines and extra glasses.
Keep a survival kit in the car as well as your office.
Make a communications plan
Have an out of state contact, build a texting tree, and have a plan to get home in the event of an earthquake while you're at work.
Always keep your cell phone charged, and have a hard copy of emergency numbers.
Know how to turn off utilities
Even though you live in an apartment, you may have to shutoff the water going into your unit, or turn off gas.  Learn how to do this so you can practice before it happens.  Repair crews may not always be around, so  a few tools handy to help you do what's needed.
I hope these tips that are easily done in an afternoon or two will help someone get started before the next earthquake happens.
© Apartment Prepper 2014