This post is by Bernie Carr, apartmentprepper.com
Are new to preparedness and you're trying to stock your pantry but you don't know where to start?
Just head on over to The Preserve The Harvest Masterclass and sign up for the FREE preview of Self Reliant School's canning and dehydrating classes.
Click here to register for FREE—–>Free Preview – Preserve the Harvest Masterclass
Here are just a few things they're going to cover
Introduction to canning (how does the process work)
Introduction to water bath and pressure canning
How to make and can applesauce, jams, and jellies
How to can fruit
Introduction to dehydrating
How to dehydrate fruit
How to dehydrate vegetables
How to store dehydrated food
…And much much more
Here is that link again….Hurry to sign up——>Free Preview – Preserve the Harvest Masterclass
BONUSES
If you sign up today, they're giving away some bonuses just for signing up.
Preparedness Planner (Complete with calculators)
The Preparedness Planner Essential Oil Edition (Complete with printable labels)
The Handmade Gift Planner And Organizer (Complete with printable recipe cards and menu sheets)
The Preparedness Planner Gardening Edition (Complete with Companion Planting Guide)
Microgreens Mini Course (Complete with downloadable PDFs to accompany each video)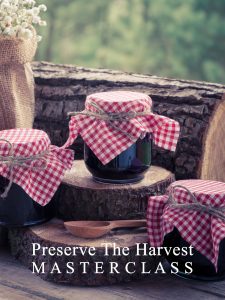 Don't miss out on these free bonuses, head over there and sign up!