This post is by Bernie Carr, apartmentprepper.com
Today we had a tropical storm.   Many streets were impassable, and parking areas were closed off due to flooding.  Fortunately, the storm was just that, not a hurricane.  Weather forecasters are warning of an active hurricane season and advising people to get prepared.   Natural and man-made disasters can happen anywhere.  That's why I always recommend having a stockpile of emergency foods.  It should include foods that are easy to prepare, preferably a combination of long term food storage that you can assemble yourself, as well as commercially available freeze dried food.
The Legacy 72 Hour Kit
I received a sample package of The Legacy Premium 32 Serving Family 72 Hour Kit.  The kit comes in an easy to carry, stack-able bucket as pictured here.
What comes in the Legacy 72 Hour Kit?
The bucket includes 4-serving packets of the following entrees:
Pasta alfredo
Pasta primavera
Enchilada, beans and rice
Stroganoff
Cheese and broccoli bake
Chili mac
Cheese and broccoli soup mix
Classic chili mac
Each serving provides about 350 calories.  Total calories in the kit equals 11,200
How do you prepare it?
For this review I chose the Stroganoff.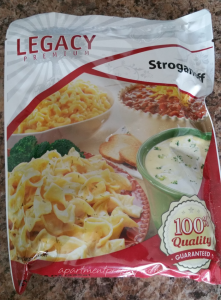 It is very simple to prepare.  All you need to do is bring 6 cups water to boil.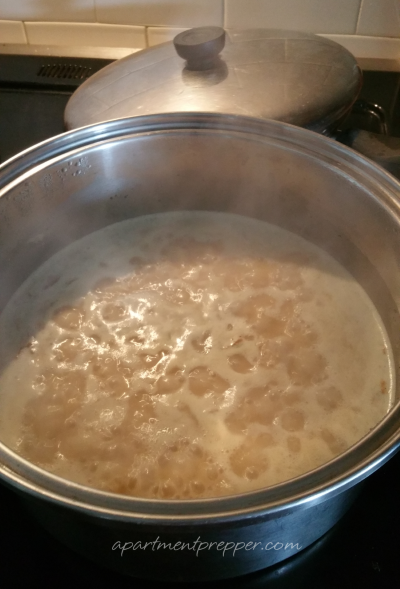 Add in entire package slowly. Reduce heat to a medium boil. Cook for 12-15 minutes.  Stir it a few times to prevent sticking.
Remove from heat and let stand for three to five minutes.
How did it turn out?
The serving sizes are actually large.  If you have younger kids, a packet can serve up to six people.  The dish was flavorful but not too salty.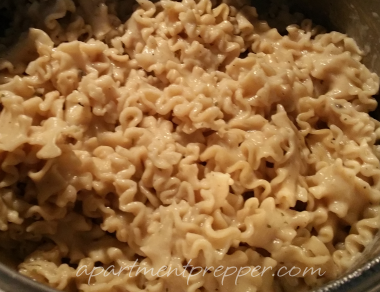 Any one of them would make a good meal for lunch or dinner.  Note this entree does not contain meat however Legacy does have other offerings that includes meat.
I think these other factors make it a good buy:
25 year shelf life when stored properly
Non-GMO
Gluten-free options
Lowest cost per pound of food:  Legacy gives you 1 1/2 to 2 cups per serving, instead of 1 cup servings that I have seen other companies provide.
Legacy also offers food storage lines that are gluten free.
Made in the USA
The bucket is well made and can easily fit in the bottom of the pantry.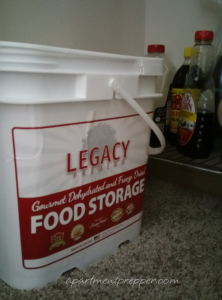 Keep a bucket like this one and you are assured three days worth of meals in the event of an emergency.  The entree was easy to prepare but remember that it does require water.   Food storage tip:  Make sure you store enough water to allow for drinking, food preparation and cleaning.  I would also keep them on hand for a quick week night meal.
The Giveaway
One lucky winner will be chosen via Rafflecopter to win The Legacy Premium 32 Serving Family 72 Hour Kit.   We've made it as easy as possible to enter, with lots of opportunities to win! This giveaway is closed.
© Apartment Prepper 2017