This post is by Bernie Carr, apartmentprepper.com
I tend to get itchy, chapped hands so I wanted to see if I can make an inexpensive liquid hand that is gentle and non-drying.  I am a big fan of Dr. Bronner's Liquid Magic Soap, as you can see from this review.   So I used the soap bar version as a base for my liquid hand soap.  Here is what I did.
Ingredients:
1 bar of soap – I used Dr. Bronner's Almond Bar Soap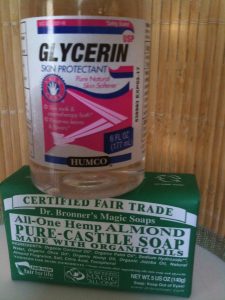 2 tbsp glycerin (can be found in most personal care sections at groceries or drug stores)
12 1/2 cups of water
You will also need:  cheese grater, large pot, large funnel, liquid soap dispenser (I used recycled empty ones)
Directions: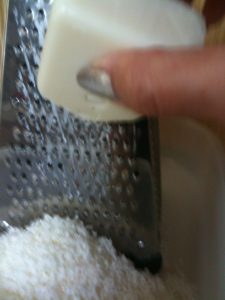 1.  Grate the bar of soap using the cheese grater.
2.  Boil 3 liters of water.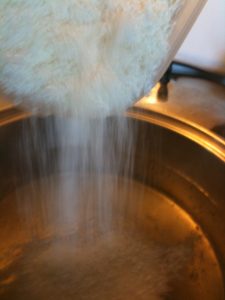 3.  Add the grated soap and stir well.
4.  Add the glycerin.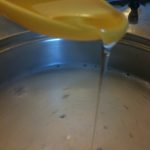 5.  Continue boiling until the soap melts.  The water will be a bit bubbly but overall somewhat clear.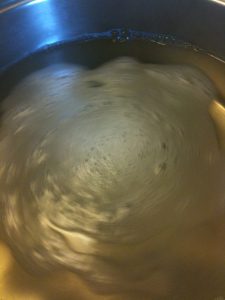 6.  Let stand overnight.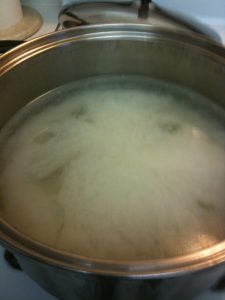 6.  When I checked it the next day, the liquid had become filmy.  It needed to be mixed so I used a fork to stir it up.
6.  Using a large funnel, pour the liquid soap into a large empty jug for storage (best done over the sink.)  The liquid tends to pour in large quantities so do it very slowly.  Once it's in a more manageable container, fill up a recycled soap dispenser.   Don't forget to wash your cheese grater and all other utensils before using for food.
I estimated how much this whole project cost:  $4 for the soap and a few cents worth of glycerin (it was $3 for the small bottle of glycerin):  $7 total initial outlay made 3 liters of liquid soap, which equates to about $40 of liquid soap.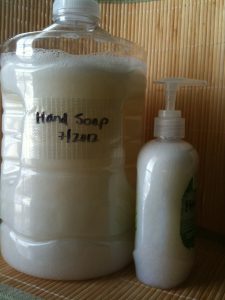 More importantly, did it work?  I had never tried this before so I wasn't sure if it would turn out well.  I tested the new hand soap:  it lathered up just enough and smelled clean.  It felt a lot like store bought liquid soap but not as strong and drying.
Additional Notes:  This was my first try so I am not sure how other soaps would work.  I would think other soap brands would work just as well, as long as they are not overly moisturized such as Dove soap, as that would change the consistency.  I also thought adding a few drops of your favorite essential oil would work.  If you like it extra sudsy, add water and use a foaming soap dispenser.   
© Apartment Prepper 2018