This post is by Bernie Carr, apartmentprepper.com
Mr. Apt Prepper and I were talking out our emergency food supply which contains a lot of beans and rice.  For variety, we thought we should try making homemade tortillas.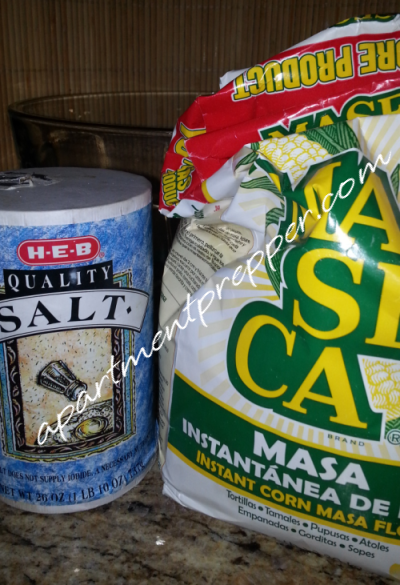 The instructions came from the corn masa flour package.
How to make corn tortillas:
1 cup corn masa flour
2/3 cup water
1/8 tsp salt
Other equipment used:
Tortilla press (you can make them without one, this just makes it easier)
Flat cast iron skillet – coat with oil or butter
1.  In a large bowl, add water to the corn masa flour.  Mix for two minutes until you can shape a ball.  Add water by the tablespoon if the mixture feels too dry.  I ended up adding about three tablespoons as I kept kneading the dough.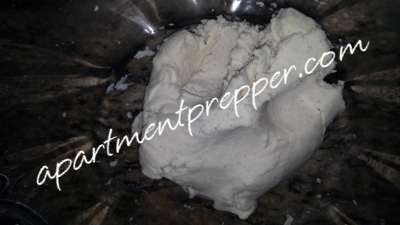 2.  Once you can make a smooth ball out of the dough, you can start shaping your tortillas.  Separate the dough into eight small balls.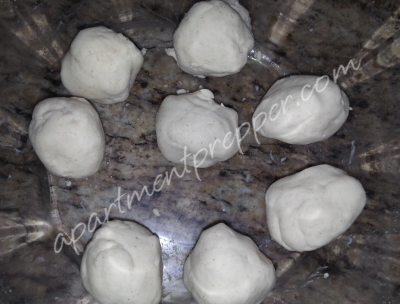 3.  Lay a piece of plastic such as a cut up Zip-lock freezer bag against both sides of the tortilla press.  The plastic will keep the dough from sticking to the press.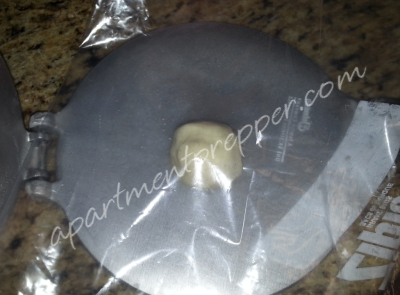 4.  Place the dough ball on one side of the plastic and flatten the press.   Heat the cast iron skillet on medium heat.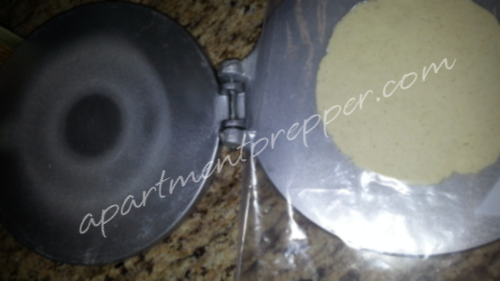 5.  Carefully pry the dough off and place on the hot skillet.  Cook for 1-2 minutes on each side.  You will notice the dough start to brown and puff slightly.  If you undercook it, the tortilla will taste like raw dough.  I should know, I tried one too soon.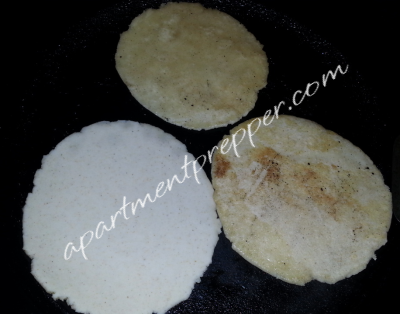 6.  Keep cooking until all the tortillas are done.  Serve warm.
Result:
These tortillas came out way too small to make tacos but were tasty by themselves.  They are more flavorful and more filling than store bought tortillas.  This makes about eight corn tortillas.
Next time I will double or triple the recipe to make bigger tortillas.
I decided to see if I could make tortilla chips out of these, since they were too small for tacos.  I cut up the tortillas into four and fried them in hot oil.  I fried them for about three to four minutes until slightly brown, then added salt to taste.  Drain on paper towels to remove excess oil.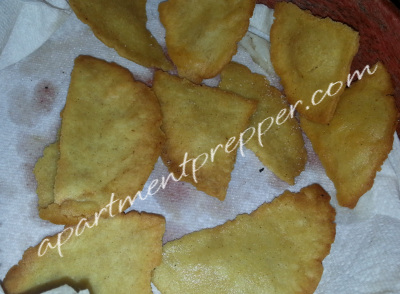 The chips made from homemade tortilla chips were very tasty and filling.
It was a bit time-consuming to make corn tortillas yourself, but I like knowing I can make them in case I run out and don't want to run to the store.   This skill will also help to add variety to survival foods.
Teach kids to be prepared, not scared