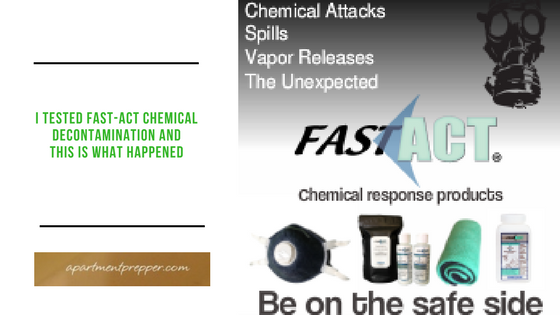 This post is by Bernie Carr, apartmentprepper.com
I received a sample of FAST-ACT Chemical Decontamination products.  They are a sponsor, however, this is an independent test.
What does the Fast-Act Chemical Decontamination Kit include?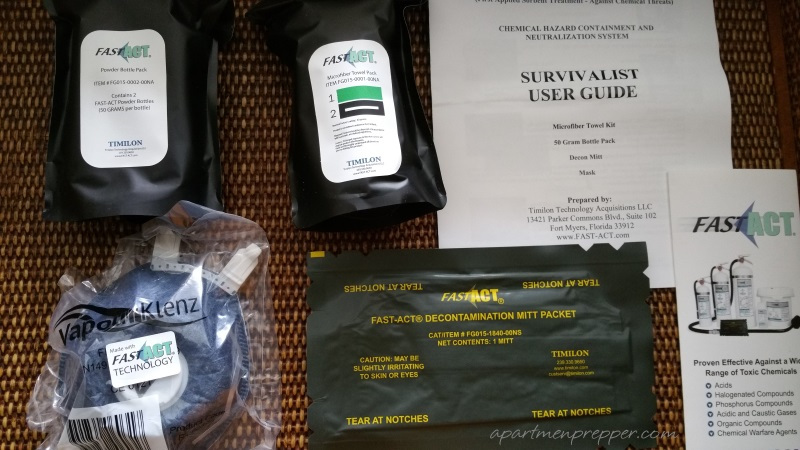 The package contains:
FAST-ACT Decon Mitt
FAST-ACT Sorbent Powder Bottle Set
FAST-ACT Microfiber Towel Set
FAST-ACT/VapourKlenz Face Mask
User Manual
What is Fast Act?
Fast-Act is chemical hazard containment and neutralization system.  The products work for clean up of:
-Chemical residue
-Chemical vapors and odors
-Chemical or fuel spill
FAST-ACT® (First Applied Sorbent Treatment – Against Chemical Threats) is a proprietary formulation of non-toxic materials that work by neutralizing a large number of toxic chemicals and have the added capability to destroy chemical warfare agents.  The products are non-flammable and non-corrosive and can reduce both liquid and vapor hazards.  They are effective on:
Acids
Halogenated compounds
Phosphorus compounds
Acidic and caustic gases
Organic compounds
Chemical warfare agents
The Test
Today I am testing the FAST-ACT Kit to see how it works against a common chemical that normally causes me a lot of eye and skin irritation when a spill occurs.  I am going to see if it works on chlorine bleach.  I chose to test it on chlorine bleach,  as it is commonly used in many households, but can be hazardous if not handled properly.  The Centers for Disease Control indicates that exposure to chlorine causes:
Respiratory:  Burning sensation, cough, labored breathing, shortness of breath, sore throat.
Skin:  Redness, skin burns, pain, blisters.  I've had my share skin irritation from bleach from handling.
Here's what I did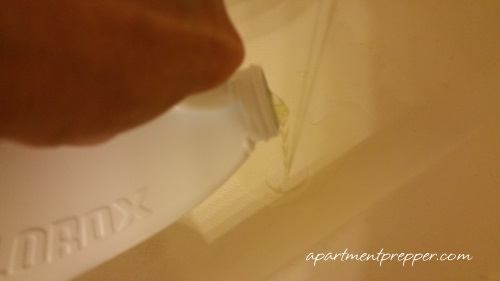 I poured about a quarter of the bottle of bleach on the surface.
I then quickly placed the FAST-ACT/VapourKlenz Face Mask on to my face, fitting it over my nose and mouth.
Following directions, I put on the FAST-ACT Decon Mitt on one hand and tightened the strap.
I then wiped the puddle of bleach with the mitt.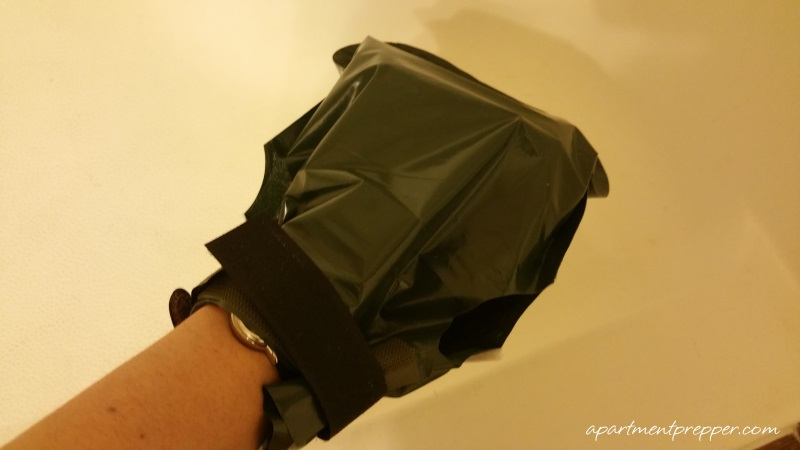 Note:  I should point out this test is non-scientific, it is simply what I'd do myself if faced with a small chemical spill that I know I can handle right away.  Of course, if it were real, and a large, uncontrolled spill occurred, the experts would have to be called in.  If you want to view scientific tests see Demo-Fast-Act for Acids.
Result
Bleach fumes always make my nose burn as well as cause me to cough.  After I placed the FAST-ACT/VapourKlenz Face Mask, I could no longer smell the bleach odor.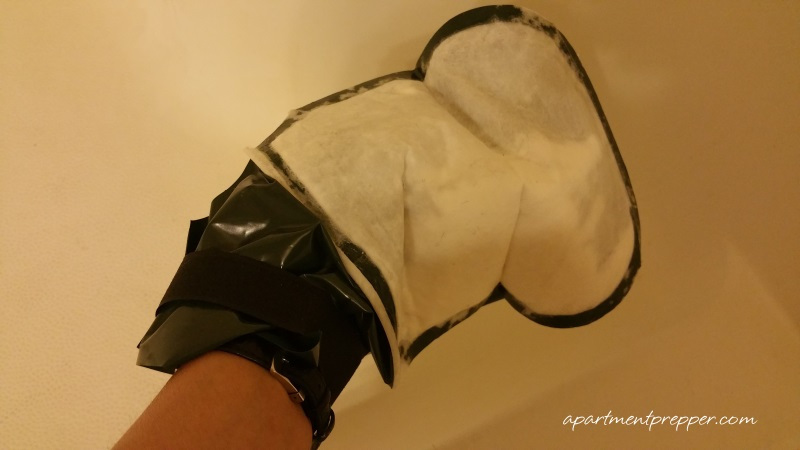 While I was wiping the bleach, I felt a warming sensation on my hand.   The bleach never came into contact with my skin, so I did not feel any skin irritation.
The FAST-ACT mitt quickly started working.  It absorbed the liquid, as well as decontaminated the surface.  In just a few minutes, the mitt absorbed as well as neutralize the puddle of chlorine bleach.
Why do you need to include the Fast Act Decontamination Kit in your Survival Supplies?
According to Ready.gov, a chemical threat can come without warning.   Some neighborhoods in areas heavily industrial areas have been evacuated due to noxious fumes or a hazardous chemical release.  It happened recently in our own city, during the aftermath of Hurricane Harvey. 
The products are easy to use.
Fast-Act works very quickly.
The powder bottles can be used multiple times, but once the powder comes into contact with the toxic substance, it cannot be reused.  The mask can last up to 3-4 months of use, as long as it is resealed while not being used. The mitt, as well as the towel pack, is for one-time use.
The Products are made in the U.S. out of Topeka Kansas.
Shelf Life:  The items have a long shelf life.  They can last 5 years as long as they are sealed.
The most important reason you should have the Fast-Act Decontamination Kit in your survival supplies is the products really do work in neutralizing hazardous chemicals.  You can use them to decontaminate your home's surfaces, your equipment, gear, etc., or any other area that has come into contact with dangerous chemicals.
You can find Fast-Act products by clicking below: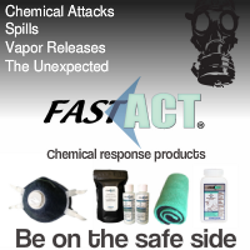 © Apartment Prepper 2018