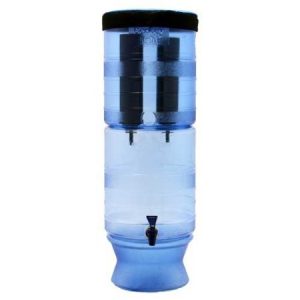 This post is by Bernie Carr, apartmentprepper.com
Our tap water has a heavily chlorinated taste.  Instead of buying bottled water, we use our Berkey Light Water Purifier on a daily basis.   Now that we use it all the time, I realized there is some maintenance that goes will using a water purifier, no matter what brand you use.
After using the filter for about three months, I noticed a reddish coating on the water filter elements, so we disassembled the unit.  I started reading about cleaning your water filter.  I also spoke to the "Berkey Guy" to get some information.  The reddish tinge around the water filter elements might be caused by iron in the water, and should be cleaned off.
How to Clean your Water Filter
Take apart the unit and clean the black filter elements under running water will a scrub sponge such as Scotch Brite.  A stiff brush would work as well.  If it seems clogged, follow instructions that came with your individual unit to "prime" the filter.  (As a quick explanation, priming involves holding the filter against a faucet and allowing the water to flow through the filter.  Not all water filters require this-follow your own manufacturer's instructions)
Do not use very hot or very cold water as this may damage the filters.
Clean the containers with soap and water.  Rinse thoroughly.
How to Tell if the Filter is No Longer Working
The best way to test the water filter is to add red food coloring to the water and allow it to run through the unit.
If working properly, the filtered water will be completely clear.  If the red food coloring is not removed, then it is time to replace the filter.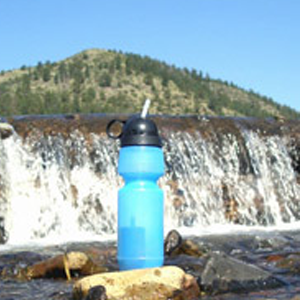 Portable Water Filters
The same thing applies to individual filters such as the Berkey Sport Bottle.  I've also used the Lifesaver filtration bottle., as well.   The parts should be cleaned and left to air dry completely between uses.  Reassemble only after it has dried thoroughly.  I've made the mistake of storing a portable water bottle and it developed mold.
The Berkey Guy also reminded me that the sport bottle filter should not be left out in an overheated car or allowed to freeze.  Extreme temperatures will warp the filter.
Whether you use your water filter on a daily basis or only on emergencies, taking proper care of it will help ensure it functions properly when you need it, for as long as possible.
© Apartment Prepper 2013