The Sawyer Permethrin Clothing Insect Repellent Trigger Spray is used by spraying it on clothing, socks, shoes and other gear such as tents and sleeping bags. It forms a protective barrier so fleas and ticks will not attach themselves to you, and, it also kills mosquitoes and flies on contact.  The main ingredient is Permethrin, a synthetic molecule similar to those found in natural pyrethrum, which is taken from the chrysanthemum flower.  It is not for use directly on skin, as the skin will break down Permethrin within 15 minutes, rendering it ineffective.  However, it does bind to fabric without damage, and continues to be effective for up to 6 weeks or 6 six washings.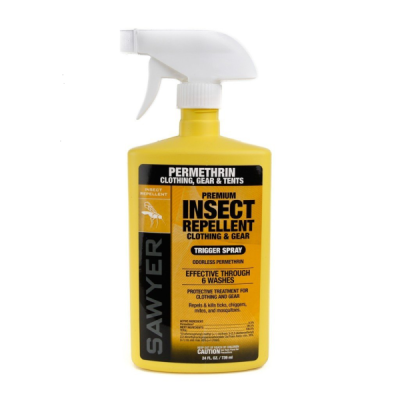 The Test
I tried out the Sawyer Permethrin Clothing Insect Repellent Trigger Spray by spraying it on my clothes, socks and shoes and going hiking through some thick woods.  I wore long sleeves and long pants for maximum protection.  The product is odorless.  I did not use any other insect repellents on my skin- I wanted to be sure this product was the only product being test.  When I had walked there before, there were always flying insects trying to land on me.  I also found a few ticks on my shoes so I knew this to be an infested area.
Upon hiking for a couple of hours, I checked myself all over and found that no ticks had attached themselves, and I did not get bitten by any insects as I would have expected, even in exposed areas such as hands and face.
Therefore, I would conclude that Sawyer Permethrin Clothing Insect Repellent Trigger Spray works as described, when used as directed.
I was pleased with the result and bought another bottle to be used when we go camping this summer.  This time I will spray the tent and sleeping bags as well.
 © Apartment Prepper 2015

Disclosure: This is a professional review site that sometimes receives free merchandise from the companies whose products we review and recommend. We are independently owned and the opinions expressed here are our own. Apartmentprepper.com is a participant in the Amazon Services LLC Associates Program, an affiliate advertising program designed to provide a means for sites to earn advertising fees by advertising and linking to Amazon.com