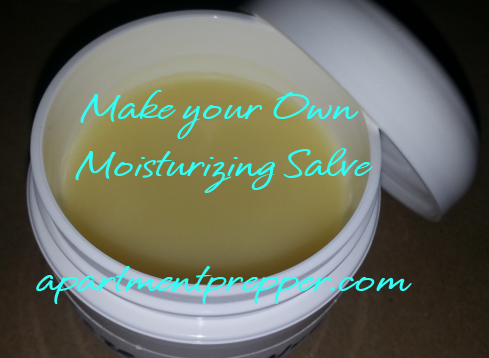 This post is by Bernie Carr, apartmentprepper.com
I have been looking for a homemade moisturizer recipe in a long time when I came across the recipe for Miracle Healing Salve over at Backdoor Survival.
But I delayed in trying it out right away because I first had to gather up the ingredients (I'm on a budget) and I had a little mishap with essential oil that made me a bit shy about proceeding.
After reading up on the proper ways to use essential oil, I was finally ready to give it a try. A few notes:
I went the "bargain" route by using pure olive oil instead of extra virgin. I also skimped and did not pick up any glass droppers, although later I realized it would have made it easier than pouring straight from the bottle (live and learn!).
I planned to make a few different variations by following the instructions for Miracle Salve, Eczema Salve and plain salve.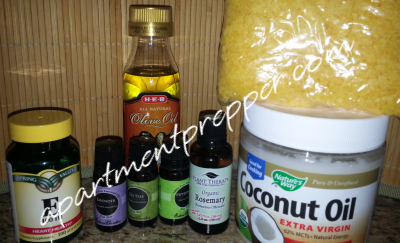 Materials and ingredients:
1 cup coconut oil
1 cup pure olive oil
5 tbsp organic beeswax pastilles
Essential oils that I used:
-lavender
-peppermint
-rosemary
–tea tree oil
–eucalyptus oil
Other:
2 ounce jars
large measuring cup
Cooking pot large enough to boil water and accommodate the cup
labels
sharpie pen
Directions: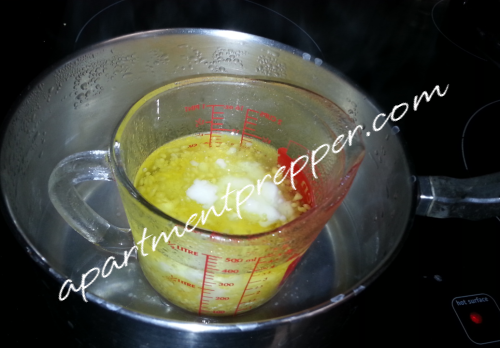 1. Add water to the pot, and set it on stove to simmer.
2. In the large measuring cup, add 5 tbsp organic beeswax pastilles, 1 cup coconut oil, 1 cup olive oil. Set the measuring cup in the pot. Leave it alone until it starts to melt and stir it every once in a while. This will take around 20 minutes.
3. While you are waiting for the oils to dissolve, start labeling your jars.
4. For the Miracle Salve: add 5 drops of lavender, 5 drops peppermint and 5 drops rosemary oil.
5. For the Eczema Salve, I used 5 drops of lavender, 5 drops peppermint and 5 drops rosemary oil, 5 drops tea tree oil, as mentioned in Gaye's article.
6. For Eucalyptus Salve, I just added 5 drops of eucalyptus oil.  I like eucalyptus oil because it helps with nasal congestion and it makes everything smell like a spa.
7. For plain salve, I just labeled the jar and added nothing.
8. Check the oils and if they are completely dissolved, they are ready to pour into the jars.  The glass cup will be extremely hot so use an oven mitt and carefully pour the melted oils into the jars.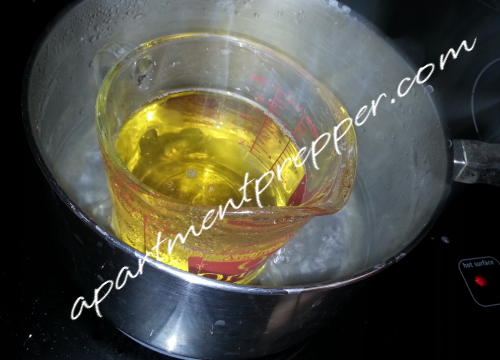 9. Find something to cover the uncapped jars and leave them alone overnight. I just used recycled paper bags but you can use paper towels, or cloth if you prefer. The salve does solidify in an hour, but you should leave them alone overnight.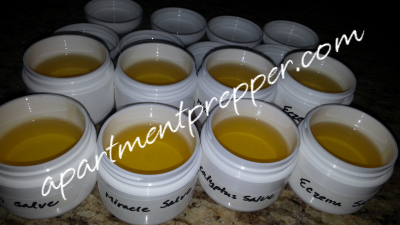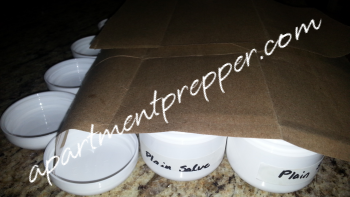 The next morning, I checked the jars and the salves were ready for use.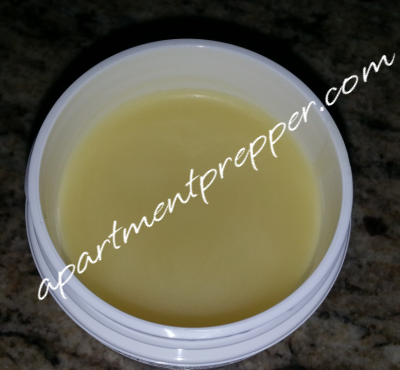 Results:
Moisturizer:  I used the Miracle Salve as a moisturizer for my face.  Althout it felt a tad oilier than normal moisturizer, but it was absorbed quickly and felt great on my skin.
Lip Balm:  I first tried the Miracle Salve on my lips but because of the peppermint you get a tingly feeling.  I then tried using plain salve as a lip balm, and I liked it a lot.
Leg and Foot Moisturizer.  The Miracle Salve really works on softening rough heels and knees.
Pet Hot Spot Reliever:  I used Miracle Salve on the dog's hot spot. Our dog is super obsessive and cannot stop licking once he gets started, the vet even put a cone on him. We have tried everything but after I used Miracle Salve on him, he does not seem to be licking the same spot.
Eczema Salve:  I gave the Eczema Salve to the family members who suffer from eczema.  So far I hear they are getting good results.
I am convinced the salve is very effective and will replace many skin products.  I just haven't tried all the possible uses yet.  Even with the initial cost of the ingredients, using this homemade moisturizer will save a fair amount of money.  My thanks to Gaye Levy of Backdoor Survival for sharing her recipe!
Moisturizing Salve update (May 24, 2014)  I'm just so pleased about how my moisturizing salve turned out:  With the last batch, I gave away some eczema salve and miracle to family members, some I mailed out of state.  After a couple of weeks of use, the results are in:  they definitely work!   The salve helped eczema, psoriasis and skin allergy sufferers.  I'm using the plain salve as a makeup remover, and substitute for petroleum jelly.