by Bernie Carr
Anytime a major natural disaster occurs, the aftermath usually includes a power outage. Just look at a few recent reports:
The wintery precipitation that fell overnight into Thursday morning has come to an end, as the winter storm pushes out of North Texas.

Power outages, which had reached a peak of 34,000 overnight, are slowly being restored, according to Oncor. The majority of those lingering outages are in the Dallas metro area and adjacent north and northeast counties and along the Reed River.

SOURCE: ABC8 Dallas
The ice storm across the Mid-South resulted in hundreds of outages in Memphis and the surrounding metro.

SOURCE: FOX13 Memphis
Thousands of Duke Energy customers are without power as of Thursday night.

Around 2,000 people in the Tri-State are without power as of 2 p.m. Friday.

SOURCE: FOX19 Cincinatti
Avoid being stuck in the dark by preparing your light sources ahead of time.
Build your lighting collection using these two tips
These tips are from Ron Brown, author of a popular series of e-books on lighting.
1. Assemble a collection of inexpensive flashlights that will run on common batteries you can find around the house.
2. Choose a flashlight that can run on just one battery.
Some Examples
AAA Battery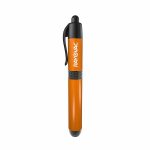 The Rayovac Model BEPN1AAA-BTA uses just one AAA battery.
D Battery
Older models:
· Eveready UPN 132295

· Rayovac VB1DLED-BA
· Dorcy 41-2339
Newer models:
Eveready UPN 138514
Rayovac VBJ1D-B2
Ozark Trail OT LED Plastic Flashlight1D
For more details and fun lighting hacks, watch the Cheap Emergency Lighting YouTube video by Ron Brown using the link below.  It gives awesome tips on accumulating emergency lights that will be available to you just when you need it. You can view it here:
---
We are an affiliate of Amazon.com, which means we received a small commission if you click through one of our Amazon links when you shop, at totally no cost to you. This helps keep the lights on at the blog. Thanks!
About the author:
Bernie Carr is the founder of Apartment Prepper. She has written several books including the best-selling Prepper's Pocket Guide, Jake and Miller's Big Adventure, The Penny-Pinching Prepper and How to Prepare for Most Emergencies on a $50 a Month Budget. Bernie's latest e-book, FRUGAL DIY has just been released on Amazon. Her work appears in sites such as the Allstate Blog and Clark.com, as well as print magazines such as Backwoods Survival Guide and Prepper Survival Guide. She has been featured in national publications such as Fox Business and Popular Mechanics. Learn more about Bernie here.