This post is by Bernie Carr, apartmentprepper.com
I am happy to welcome our new sponsor, FastAct Chemical Response products.
What is FastAct Chemical Response?
FastAct stands for  First Applied Sorbent Treatment – Against Chemical Threats.  They carry a variety of products to protect against:
Chemical Contamination
Smells/Vapors Release
Chemical Attack
Chemical or Fuel Spill
A chemical emergency can happen without warning, according to Ready.gov.  In a later post, we'll take a closer look at FastAct products and how they can help you prepare for chemical hazards.
Please click on the link below for more information: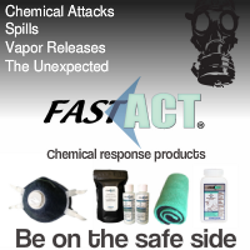 © Apartment Prepper 2018