This post is by Bernie Carr, apartmentprepper.com
A few days ago, I unpacked the BioLite's Prep Kit – Apartment Edition. In Part 1 of the series, I reviewed the Solar Home 360 which includes the solar panel, Control Box, 2 Hanging Lights, 1 Security Light. Read all about it here.
Today, I am reviewing another part of the kit, called Sunlights, solar-powered lights that you can take anywhere.  The Prep Kit includes two Sunlights.  I am not affiliated with BioLite the company that produces Sunlights nor are they a sponsor of the blog. The opinions expressed in this review are mine alone.
How do they work?
When you see the package right from the box (or store) you can actually try it out in "demo mode" by clicking the top button it will cycle thru the various light modes such as white, green, red or party mode.
Per the instructions, you can get it out of demo mode by pressing the button for 10 seconds. You are then ready to cycle through the various modes.
Press once – white
Press twice – colored lights
Press three times – party mode where it changes colors.
Within each mode, you can adjust by pressing and holding to dim or brighten the light.
When I first tried to charge it via the sun, it wasn't charging at all and that was because the sundial which is a small section in the corner of the light was not facing the sun. You can tell the unit is charging because it flashes a light every few seconds. Red means it's very low, yellow means it's charging and it's about mid-way, and green means it's fully charged.  Because I did not have the sundial up, it was not charging. I think it would be helpful if the sundial had a different color or something to make it stand out so it would be more obvious for the user. But that is just minor, it doesn't bother me that much.
How long did it take to charge?
Via solar power, it takes about seven hours.
Via USB, it takes about two hours.
A full charge provides about five hours of lighting in the brightest setting.  I left the fully charged light on and it did indeed last for about five hours before it started to get dimmer.  To make it last longer, use it at a lower setting. At party mode (color changing) it'll last around six hours.
I was also able to charge it using the control box of the solar kit.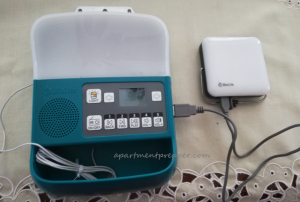 Here is how it looks on the white mode: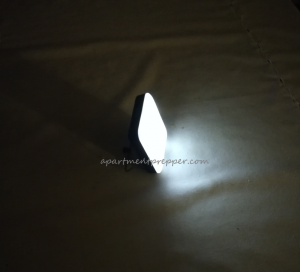 Here is an image that shows the various colors: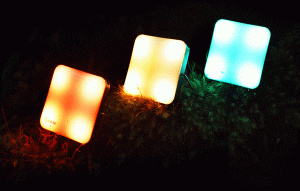 It's nice and bright even at the lower setting. The Sunlight is a 100 lumen light.
My impressions
I think it's a good light to have as a backup emergency light, and it would also be great for camping or backpacking.  It is so lightweight and compact.  I like that is also water resistant.  I wish it had a battery backup option but that does not detract from it as you can charge it using a USB as well.
Sunlights are a good alternative to candles or lamps as there is no fire hazard to worry about. If you have kids or pets you know you have to be careful when setting up candles or lamps that have fuel so they don't accidentally burn themselves or tip them over. Sunlights eliminates this extra worry.
The light is well-made and easy to use.  I dropped it a few times on a hard floor and nothing happened to it.
It would be good to keep several of these around the house as well as the car.  Just remember to charge them every now and then, either via solar or USB so they light up just when you need them.
Two lights come with the Apartment Bundle but they are also available separately.  If you pick up a 4-pack, you can place them around the house where you would a candle, one in the bathroom, one on your night stand, etc. Because they have a color changing mode, they can lighten the mood during a storm or power outage. The red light option is also good to have as you avoid disturbing someone's vision when it's very dark.
Check out the Sunlight Bundle page for a discounted price during the month of September.  Now is a good time to stock up for an emergency or disaster, camping or for gift-giving.
If you found value in the article, please help us keep this site free by supporting Apartment Prepper on Patreon. Click here: https://www.patreon.com/apartmentprepper No worries if you are not able to, I'll still keep writing!