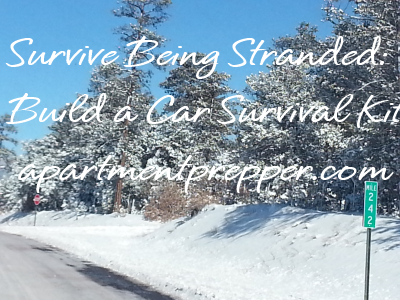 This post is by Bernie Carr, apartmentprepper.com
Since many city dwellers spend a lot of time in their cars, it makes sense to keep a well stocked emergency kit.  Most of these items are easy to find:  you may already have many of these items around your house.  Just fill in what you're missing.
Basic car kit
"Fix-a-Flat" or some kind of tire sealant – this has helped me on a couple of occasions.  Replace it as soon as you use one.
roadside flares, reflexive tape or safety triangles
Flashlight with extra batteries, light sticks
First aid kit
You can either buy a pre-assembled one or build one yourself.  Make sure you include pain relievers, allergy medicine, antacids, adhesive tape, antibacterial wipes, antiseptic cream, and other medications your family uses.
Food
Keep nonperishable food such as protein bars, granola bars or high calorie emergency food bars.  You will need to rotate your food stash – if you leave them in the car too long, they will deteriorate especially in the summer.
Water
Bring enough bottled water for the family.  Just remember to keep rotating the water bottles.
Cold weather supplies
You'll need emergency blankets, hand warmers, windshield ice scraper, snow shovel, rock salt or cat litter to give you traction, tire chains
Other helpful items
Multi-tool or Swiss Army knife
Fire extinguisher
Gloves
Rags
Trash bags
Tow strap or tow rope
Paracord
Duct tape
Battery operated or hand-crank radio
portable stove
Matches and lighters
Small amount of cash in assorted denominations and change for toll roads
Umbrella, rain ponchos
Paper maps, compass
Old cell phone (keep it charged at all times) – can still be used to call 911
For Kids:  extra clothes and socks, diapers, baby wipes, small toys
While you're at it, check to make sure the owner's manual, spare tire, and jack are still in the car.  These items are often taken for granted as being in the car, until one day you need them and find out they have been misplaced.  Don't take any chances – get that car survival kit assembled now.  Hopefully, you'll never need it, but if you ever get stuck, you'll be glad you have it.
© Apartment Prepper 2014