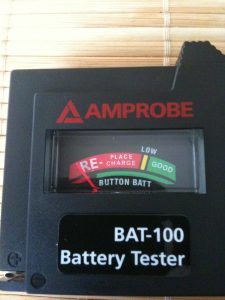 This post is by Bernie Carr, apartmentprepper.com
Hurricane season has started on June 1st and we always update our supplies at this time.  It's always a good idea to check your inventory, check for expiration dates for food and battery supplies. We've lost a lantern and other gear from leaking and corroded batteries, and have learned to remove batteries when storing for long term.
We have a fairly large supply of batteries from a couple of years ago.  We could not tell how fresh they are:  some are approaching expiration and some are partially used from a power outage or two.  Not wanting to just toss them out without checking their usefulness, Mr. Apt Prepper decided to pick up a battery tester from Lowe's.  It costed around $6 plus tax and it works pretty well.
All you have to do is touch the top and bottom of the battery to the tester and the dial will show how much battery life is left.  He just checked each on while watching TV and was finished in a couple of hours.
Consider picking one up for your emergency stash and use it right away.  Whether your area is prone to hurricanes, ice storms, tornadoes or earthquakes, you will need to use batteries at some point.  Now we know our batteries will work when we need them the most.
For more preparedness tips, read my book: