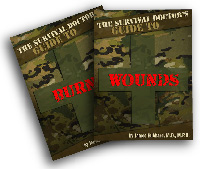 Survival Doctor James Hubbard, MD has started an E-book Series and I was fortunate to read both:  The Survival Doctor's Guide to Wounds and The Survival Doctor's Guide to Burns.
Just as the titles say, you will learn how to deal with wounds and burns, when no doctor is available.  Of course certain types of injuries are best referred to a doctor as soon as possible but in an emergency when there is no one available, it is a good idea to know what to do.
Reading both books you will be able to:
identify various types of wounds and burns
supplies you will need
"natural" alternatives, that you should also have on hand
the best type of antibiotics for each
know what you should and shouldn't do
You will not find any complicated medical jargon:  Both are easy to read and understand  non-alarming and very informative.
Wounds and burns can be life threatening if not treated properly.  You should keep this information accessible (in your smart phone, tablet or computer) in case of emergency.  Priced at $3.99 per e-book, they are well worth the price.
ReadyMade Resources is a trusted source for your preparedness supplies: