Written by Bernie Carr
Today started like any normal day. I made coffee and started making breakfast. As I was reaching into one of the cabinets to pull out a frying pan, I felt a sharp stinging pain on my left pointing finger. I checked it and gosh darn it, I got a splinter. It came from a rough piece of wood near the corner of the cabinet.
How I removed my splinter
There are several ways to remove a splinter, but these are the steps I did.
The first step is to wash my hands with soap and water.
Then I soaked the finger in warm water for a couple of minutes to soften the skin.
I sprayed alcohol in the area. Then I opened the package of the Splinter Out splinter removal tool that came with my first aid kit.
Using the tool, I slowly pried the splinter out of the skin. It took me around three minutes to remove it, as it was deeply embedded.
After it finally came out, I covered the area with some Neosporin.
I have to say this was the easiest tool I've tried for removing a splinter. My other first aid kits usually have a pair of regular tweezers which takes me a lot longer. Surgical tweezers would also work well.
So what happens if you don't remove a splinter?
Years ago, my Mom got a splinter from a rose thorn as she was trimming the rose bush. She didn't think much about it as it was small and did not hurt. A week later, her finger started getting more painful and red. The redness also spread to her hand so she made an appointment to see her doctor. By the time she got her doctor's appointment, her finger had gotten severely swollen and infected. The doctor removed the splinter and she had to go through several rounds of antibiotics before the infection cleared up.
Before this happened, I though splinters were harmless. They generally are, but they also get worse.
Inflammation
Pain, redness and swelling may occur in the area due to your body's reaction to the foreign material.
Infection
Anytime something pierces your skin, it is an entry way for bacteria to come in and cause an infection.
Sepsis
Any infection, if not treated can lead to sepsis or septicemia also known as blood poisoning. Once the infection is in the blood stream, it can lead or organ damage and can be life-threatening.
Tetanus
You can also get tetanus from bacteria in the wood, which can also be life-threatening. That's why I also keep up with the tetanus booster every 10 years.
When to see a doctor for a splinter
There are a few cases when you should see a doctor for a splinter: If you are unable to remove the entire splinter, there is a lot of bleeding, if the splinter is near the eyes or under a finger nail, if you experience redness, swelling or an allergic reaction. Thorns from some plants can also cause additional health problems. In short, if you have some doubts and concerns, it's best to see a medical professional.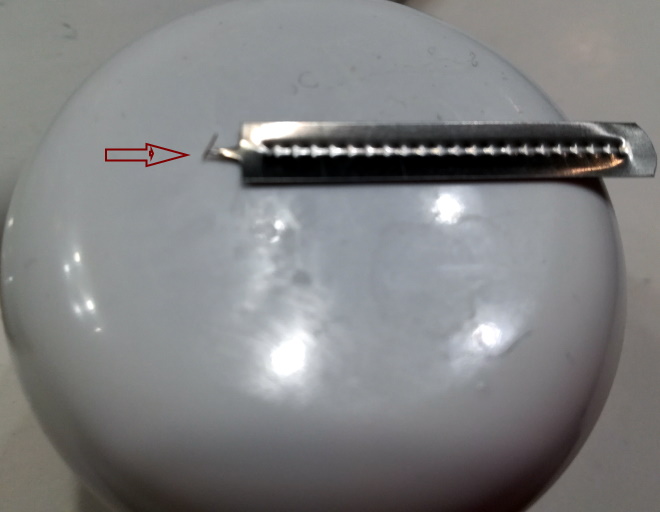 In my case, I am glad I was able to take out the splinter without any issues. I would recommend everyone add a Splinter Out splinter removal tool or surgical tweezers to your first aid kit in case you or anyone in your family gets a splinter.
---
We are an affiliate of Amazon.com, which means we received a small commission if you click through one of our Amazon links when you shop, at totally no cost to you. This helps keep the lights on at the blog. Thanks!
About the author:
Bernie Carr is the founder of Apartment Prepper. She has written several books including the best-selling Prepper's Pocket Guide, Jake and Miller's Big Adventure, The Penny-Pinching Prepper and How to Prepare for Most Emergencies on a $50 a Month Budget. Her work appears in sites such as the Allstate Blog and Clark.com, as well as print magazines such as Backwoods Survival Guide and Prepper Survival Guide. She has been featured in national publications such as Fox Business and Popular Mechanics. Learn more about Bernie here.