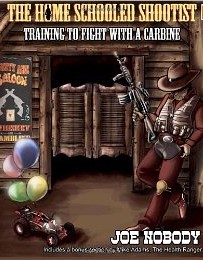 Most of our long time readers are familiar with author Joe Nobody- See  Part 1 and Part 2 of our interview a few months ago.  I've read many of his books and a running theme is the importance of defense in a survival plan:  if people are feeling threatened and unsafe, they will not able to properly obtain water, food and other needs to survive.
Prepper Press provided us with a giveaway copy of Joe Nobody's latest book:  The Home Schooled Shootist:  Training to Fight with a Carbine.
For a chance to win, just leave a comment below on the following subject:
What priority have you given the area of "defense" in your survival plan and why?

The winner will be chosen in a random drawing among all the comment writers.  Contest ends on Tuesday, November 20, 2012 at 8 pm Central, and I will announce the lucky winner on Wednesday, November 21, 2012.
Enter now!
Good luck!
This giveaway is now closed.