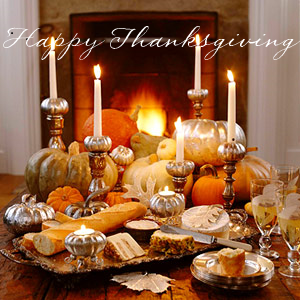 As we celebrate Thanksgiving 2013 in the midst of a difficult economy,  multiple natural disasters in recent months, worldwide protests and unrest,  we are grateful to be able to celebrate Thanksgiving with our families and friends.

Having a preparedness mindset, I realize all the things that can fail in our system. But I am grateful for things that have not failed.  We have a roof over our heads, water in the tap, gas in our cars, and are able to find a variety of food at the grocery store.  In this day and age of commercialism, people tend to forget what this time of year means.  It is time to give thanks to God for all the good things that have gone on in your life.  I hope Thanksgiving is not eclipsed by all the emphasis on Black Friday and marathon shopping days ahead.  We should not take anything for granted.  Let's be thankful for what we have and be mindful of our blessings.
I'd like to thank our sponsors, whose support helps maintain the blog.  My greatest thanks to you, dear readers, for taking the time to share part of your day with me.  We hope we can all celebrate many more abundant Thanksgivings to come.  
I wish you all a wonderful and safe holiday.
Sing to the LORD a new song, a hymn in the assembly of the faithful.  Let Israel be glad in their maker, the people of Zion rejoice in their king.  Let them praise his name in festive dance, make music with tambourine and harp.  For the LORD takes delight in his people, honors the poor with victory.  Let the faithful rejoice in their glory.     
Psalm 149