by Kyt Lyn Walken
Introduction
"Education is not preparation for life; education is life itself."

John Dewey
Nutrition is the real cornerstone of our future. We are all aware that we are what we eat. Having good health allows us to give our very best, both from a physical both from a psychological perspective.
As preppers, we look at the future by being prepared also in nutritional terms. We plan what we are going to eat in miserable times. In fact, we are pretty much aware of the fact that a potential disaster may completely change our habits.
This happens to be more than true when we think about what we regularly eat.
It makes no difference if we usually go to Walmart or to Whole Foods. In a SHTF scenario the first structure to collapse will be the food chain. Period. We've already experienced shortages during this pandemic.
By sheer matter of fact, we all know it is essential to stock up on food.
What… which food? Foods with long term expiration dates are usually preferred.
Beside that, if we are lucky enough to get fresh food (vegetables, above all) from our vegetable garden or anywhere outside, we need to understand is costs us less money – and less efforts – to conserve for a considerable amount of time.
We need to learn the best methods to preserve fresh food as well.
In this article we will cover ten different Italian recipes to conserve your vegetables by using vinegar, using traditional methods.
Vegetables and vinegar
"Success is where preparation and opportunity meet."

Bobby Unser
I reckon it's hard knowing which foods to stockpile, especially when in the beginning your path as a prepper. Women or men: it doesn't make any difference. We are all quite disoriented when it comes to decide what goes in our pantry.
One thing's sure: stockpiled food doesn't stand for bad food. In fact, in recent years even MREs (meals ready to eat) have actually come a long way in terms of taste. Personally, I am a big fan of them, now that I found a company which combines healthy ingredients and tastes great.
But MREs are expensive. And they can't replace the satisfaction of taking care of our own food, preparing something we do really like. And not only us as individuals, but all the members of our family too.
It goes without saying that vegetables are not only staple food, but they are rich of vitamins, minerals, salts, and antioxidants.
They are great for emergencies because they are versatile, easy to clean and to cook, and we can use them in appetizer, in first dishes, or inside panini. We can also eat them as snacks, and they are essential of our metabolic systems.
The con is their shorter life, unless we learn how to conserve them in the best way.
"Italian food is seasonal. It is simple. It is nutritionally sound. It is flavorful. It is colorful. It's all the things that make for a good eating experience, and it's good for you."

Lidia Bastianich
I currently live in Northern Italy so I am pretty familiar with regional cooking and preserving food which indeed have deep roots.
Some traditional recipes, in fact, come straight for World War I and II, so we can say they were "daughters of those times". Beside their historical background, it is important to underline that some of them are strictly local. By that, I mean that it makes absolute sense to move from one region to another and not coming across the very same recipes.
Because of this, I tried to pick up different recipes which are original to different regions. This is helpful to give you an idea that preserving food with vinegar is a common method, thanks to properties of vinegar.
Another good point is that you can actually try this all year long, and with a great variety of vegetables, as we soon see. In this article, you will learn to preserve food with vinegar to stretch your dollar while storing tasty, nutritious foods.
Always start with sterilized jars to be safe. In order to actually sterilize jars, they need to be submerged in (covered by) boiling water for 10 minutes. Use Mason jars with self-sealing lids for best results.
Note: The recipes below that are marked with an asterisk (*) are designed for canning. To learn the basics of canning, please refer to this guide: Principles of Home Canning from the US Department of Agriculture (USDA).*
Giardineria classica ("Traditional vegetables in vinegar")*
Ingredients
1 cup white wine vinegar
5 stalks fresh green onion
1 cup peppers
1/8 cup sugar
1/2 cup green beans
1/2 cup cucumbers
1/2 cup carrots
1/2 cup green peppers
1/2 cup cauliflower
1/4 cup celery
3 bay leaves
10 juniper berries or coriander
Peel all the vegetables, except the cauliflower florets, and keep them separate. Cut the carrots, cucumbers into slices. Cut the green beans and radishes in half, the celery into chunks, all the peppers into strips, the spring onions into chunks. Wash everything and let them dry over a clean rag.
Place the wine vinegar, 5 tablespoons of water, sugar, salt, pepper and bay leaves in a saucepan. Bring to a boil then add the carrots, celery, green beans. Then add the cauliflower florets, fennel and all the peppers, after 2 minutes add the cucumbers, spring onions and radishes. Cook for another minute, then drain the vegetables and keep the cooking liquid: let them both cool.
Arrange the vegetables alternating them as you like in the sterilized jars (you can use quart jars) and then cover flush with the cold and filtered cooking liquid. Close the jars, proceed with the canning process, and let the pickle rest for at least 1 month before enjoying it.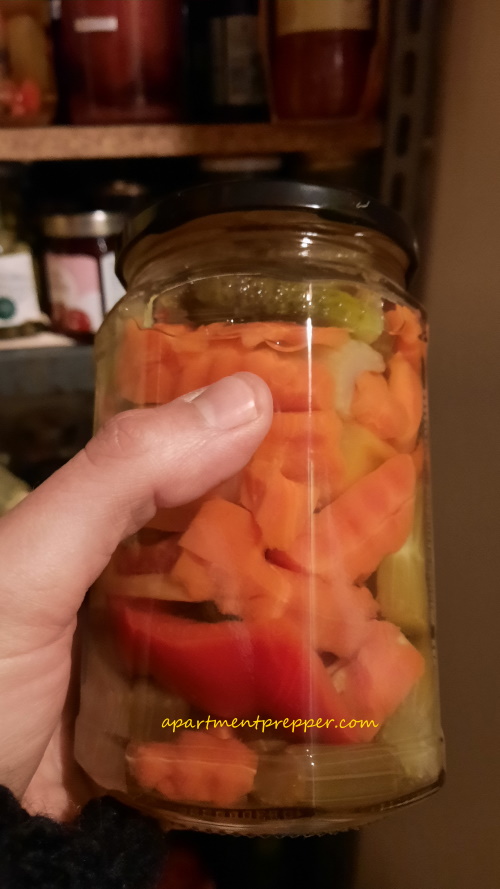 Sicilian Giardiniera*
Ingredients
1 cup White wine vinegar
1 tablespoon extra olive oil
3 salted sardines
1 cup zucchini
1 tablespoon sugar
1 tablespoon salt
1 tablespoon black pepper
The sweet and sour taste of this Sicilian dish is unique and makes a traditional vegetable side dish quite delicious.
In order to prepare Sicilian Giardiniera, take 8 medium zucchini, after having washed them, cut them into slices or cubes. Put the extra virgin olive oil in a large pan and fry 3 cloves of garlic. Add the zucchini and cook. Then add 3 salted sardines, rinsed, boned and cut into small pieces. When the zucchinis are cooked, you can also season with a tablespoon of raisins and pine nuts and cook for a few minutes. Pour half a cup of white vinegar mixed with a tablespoon of sugar. Let it blend. If the zucchini seems to dry out during cooking, add small amounts of vegetable broth. You can can Sicilian Giardinieria, due to the presence of oil and vinegar.
Variation: Classic Giardiniera with chili pepper and boiled eggs*
My Grandma's recipe stayed stick to the traditional Giardiniera recipe, but she used to add 4 sliced boiled eggs. It was really delicious!
Pumpkin Giardiniera*
Ingredients
1 cup white wine vinegar
1 tablespoon of extra olive oil
1 pumpkin
1 tablespoon of sugar
1 tablespoon of salt
1 tablespoon of pepper
Fresh mint leaves
Cut the pumpkin into slices, fry them in a large pan with plenty of extra virgin olive oil; when golden brown, lay them on absorbent paper.
Add the salt. In another pan, sauté a few thinly chopped cloves of garlic. Add vinegar and a spoonful of sugar. With the fire off, add the mint leaves. Arrange it into some sterilized jars (18 oz are recommended). Once closed, proceed with the canning process.
Peppers in vinegar*
Ingredients
1 cup apple cider vinegar
1 tablespoon extra virgin olive oil
5 red peppers
5 yellow peppers
1 tablespoon of sugar
1 tablespoon of salt
1 tablespoon of pepper
Wash carefully all the peppers, remove the stalk, remove the seeds, cut them into four parts and then into strips. Now take a pan and caramelize the sugar over low heat, adding the apple cider vinegar and salt and stirring occasionally. After a few minutes, add the peppers and cook them, taking care that they do not mash.
In a colander, to cover a bowl, pour the peppers and leave them there for an hour to drain the cooking liquid well, which you will need later. Once dry, put them in pots, taking care not to reach the brim and cover them with the cooking liquid. Now close the jars tightly and proceed with the canning process.
Piedmontese appetizer*
Ingredients:
1 cup apple cider or white wine vinegar
1 tablespoon extra olive oil
5 red peppers
5 zucchini
4 tomatoes
2 celery
3 carrots
3 spring onions
1 cauliflower
5 green beans
1 tablespoon sugar
1 tablespoon salt
3 bay leaves
Wash the vegetables well and then cut them into cubes. Then, wash and peel the tomatoes. Once this is done, cut the skin and immerse them for a few minutes in boiling water. In a little extra virgin olive oil, brown a very finely chopped onion; then introduce the bay leaves and tomatoes and cook everything for about half an hour.
Then pass everything in a vegetable mill and bring the tomato puree to a boil.
As soon as everything boils, add the diced vegetables and sugar. To respect the different cooking times, the vegetables are then added to the past, at an interval of 10 minutes one from the other, in the following order; celery, carrots, spring onions, green beans, cauliflower, peppers.
After about ten minutes after putting the peppers, then put a glass of extra virgin olive oil, one of vinegar and then a handful of coarse salt and mix well so that the ingredients blend well with each other. Pour the Piedmontese appetizer into the jars, then proceed with the canning process.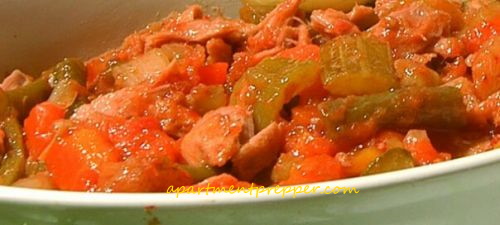 Eggplant in vinegar
Ingredients
4 eggplants
3 tablespoons of white wine vinegar
3 tablespoons sugar
2 parsley leaves
5 tablespoon of peanut oil
1 tablespoon extra virgin olive oil
1 tablespoon salt
Take the eggplants, remove the stalk and cut them into strips.
Heat plenty of peanut oil and, when it is hot, fry the eggplant sticks for about 5 minutes.
Drain the fried eggplant on absorbent paper.
Add the white wine vinegar, sugar, finely chopped garlic and a few chopped parsley leaves in a bowl and mix.
Put the fried eggplant in the sauce, add a little salt and a few tablespoons of extra virgin olive oil and mix with a fork.
Close the bowl with the sweet and sour eggplant. Add them into 18 oz sterilized jars. Refrigerate immediately. It will keep well in the refrigerator for about a month.
Variation: Zucchini in vinegar
With the same recipe you can also prepare sweet and sour zucchini, by putting chopped parsley or mint or basil, as you prefer.
Additionally, you can add ground pepper or chili.
Onions in vinegar
Ingredients
12 pearl onions
1 tablespoons of white wine vinegar
3 tablespoons sugar
1 tablespoon extra virgin olive oil
1 tablespoon salt
Sweet and sour onions are a pleasant and tasty side dish or appetizer, suitable for any occasion. Definitely an easy to prepare side dish and a very versatile appetizer. They are prepared with pearl onions, small and manageable, as well as with vinegar, water, sugar, oil and salt.
Sweet and sour onions are made by cleaning the onions and browning them in a pan with oil, then adding the vinegar and sugar mixture to complete the cooking. Overall, the preparation will take you 15-20 minutes. Close the bowl with the sweet and sour onions. Add them into 10 oz sterilized jars and allow to cool. Refrigerate immediately. It will keep well in the refrigerator for about a month.
Rounded, chili Peppers stuffed with tuna*
Ingredients
4 red rounded, chili peppers
1 tablespoon of white wine vinegar
1 tablespoon sugar
2 laurel leaves
1 cup tuna
1 tablespoon extra virgin olive oil
1 tablespoon cup salt
Remove the top cap from the chilis, then remove the seeds by digging with the handle of a teaspoon.
Rinse them well.
Put a pot of water, vinegar, bay leaf, salt and pepper on the stove and bring to a boil. Blanch the peppers for one to two minutes. Drain and let them dry upside down for a few hours, preferably a whole night. The next day, prepare the filling by blending all the ingredients together or the tuna
Stuff the peppers and transfer them to a previously sterilized airtight glass jar.
Fill the jar with extra virgin olive oil and vinegar. Let the open jar rest so that the oil settles and top up if necessary.
Proceed with the canning process and and store in the pantry for a month before you can consume them.
Variation: Peppers stuffed with anchovies and sun dried tomato*
You can actually prepare red peppers stuffed with anchovies and sun dried tomatoes instead of tuna.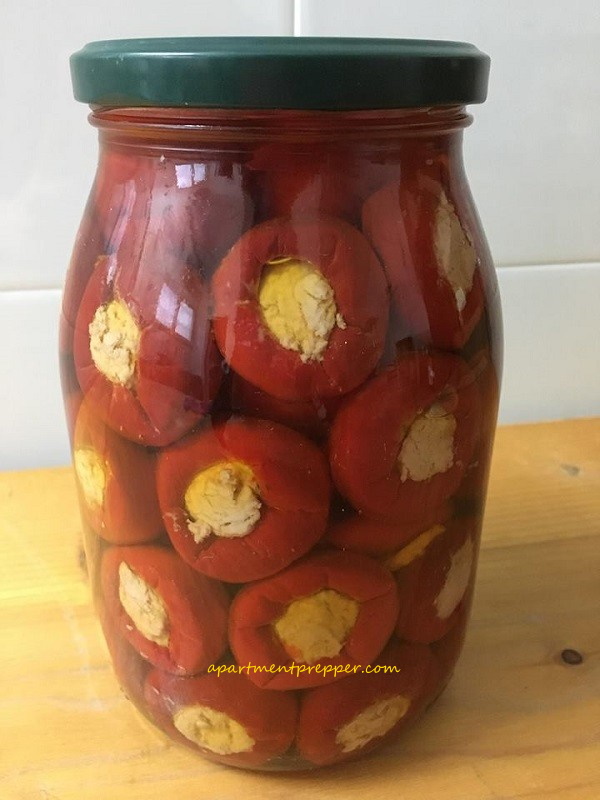 ---
About the author:
Kyt Lyn Walken is Official Representative and Instructor for Hull's Tracking School (Virginia) and Antipoaching Certified Ranger for Conservation Rangers Operations Worldwide Inc. (Colorado).
She's a long time Prepper and Survivalist and she wrote several articles and essays on this topic.           
Photo credit: Kyt Lyn Walken